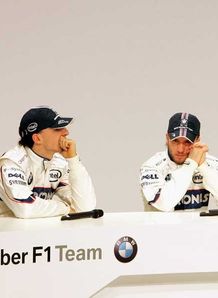 I think we were a bit disappointed about what we have seen, but it is better to see it now rather than later
Robert Kubica
Quotes of the week
Also see
BMW Sauber drivers Nick Heidfeld and Robert Kubica believe it is still too early to judge the new F1.08, but the two are positive everything will be in place once the season gets underway.
Both drivers admitted that they were not completely satisfied with the car during the first few tests at Barcelona, but are convinced it is only a matter of time before everything falls into place.
Heidfeld told Autosport: "We have learned a bit about the car and it seems to be a bit more competitive. We can place the car better, although it is still not as good as I want or as consistent as I want.
"And overall it is still not what we hoped for or expected. But at least we are now in a comfortable window.
"It is too early to say how we are doing, as we don't know the car well enough yet. It looks like it suits Barcelona a bit better, but there are so many bits coming to the first race that it is too early to make predictions."
Potential
Twenty three-year-old Kubica has backed BMW to sort out any problems before the first race of the season in Melbourne though.
"I think we were a bit disappointed about what we have seen, but it is better to see it now rather than later," he said.
"Now we see where we have to go, in which direction, and we will work to improve.
"I think we were in a better situation last year at the same point, in terms of performance compared to the other teams.
"And of course our ambitions are much higher because, after a good season like last year, the target went up. So we have to work as hard as possible, especially now, to improve. And I am hoping that in Melbourne we will be on the pace.
"The top men here know how to build a quick car. Last year showed we have good people and have a very good car, and now we have to repeat that.
"I am sure that the new car has the potential, now we need to just work as hard as possible. I am convinced that we will be ready."
Sky Bet Odds:
Click Here for Your Free Bet