Ferrari unveil F60
2009 challenger revealed at Maranello
Last Updated: 12/01/09 4:15pm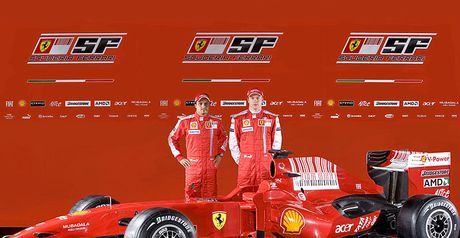 New car: Massa and Raikkonen with the F60 (Ferrari Copyright Free)
Formula 1 Betting

Formula 1 Betting

Bet with Sky Bet
World Constructors' Champions Ferrari became the first Formula One team to unveil their 2009 car on Monday when they launched the F60 at Maranello.
Drivers Kimi Raikkonen and Felipe Massa were on hand to pull the covers off the car, whose name refers to the number of Championships the Scuderia have competed in.
This year sees the 60th running of the World Championship, with Ferrari the only team to have contested every single season.
In keeping with new rules for the 2009 season designed to encourage overtaking, the F60 features a long front wing with a short, high rear one as well as sidepod mounted mirrors.
The car was also shod with Bridgestone's slick tyres - making their first appearance in F1 in over a decade - as well as Ferrari's version of the Kinetic Energy Recovery System (KERS), developed in conjunction with electronics supplier Magneti Marelli.
A new Brembo-designed brake system is also another feature on the car, as well as a longitudinally-mounted gearbox.
Clean slate
Chief technician Aldo Costa confirmed that the F60 was a completely new car rather than an evolution of last year's F2008.
"This year there have been many changes. You can't talk about an evolution but a car that has been created from a clean slate," he said.
"That's due to many regulation changes due to the introduction of new technology such as the KERS or from the desire of the FIA to improve the spectacle and help overtaking.
"The aerodynamics have been completely remodelled such as the return to slick tyres.
"The aerodynamics have nothing to do with those of last year."
The car will be shaken down by Ferrari's runner up in the 2008 Drivers' Championship, Felipe Massa, at Mugello later on Monday.
"I feel emotional but I'm also happy to take it out on track for the first time," the Brazilian said.
"With all the new rules I was expecting a different type of car, like 10 years ago with big wings so I was surprised.
"The new F60 seems tiny, very compact and cute."
Click here for a photo gallery of Ferrari's new car.