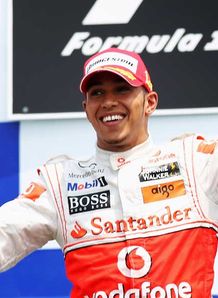 I've even had a random parent approach. A woman with kids emailed the team and said: 'I think I could be a good manager for Lewis'
Lewis Hamilton
Quotes of the week
Related links
Teams
Drivers
Also see
Lewis Hamilton says he is not currently thinking about appointing a new manager even though he has been inundated with offers.
The McLaren driver announced a professional split with father Anthony, who had also served as his long-term advisor, at the beginning of the season.
It is thought that the 25-year-old is keen to promote his image and as a result he has been linked with management companies such as IMG.
And Hamilton admits that he has been approached several times by many different people, although he has not entered into formal talks with anyone.
Strange approaches
"I've no idea how many I've had, other than it's a lot," the 2008 world champion said.
"I've even had a random parent approach. A woman with kids emailed the team and said: 'I think I could be a good manager for Lewis'.
"I've also met fans and they've said: 'I'll be your manager', but I haven't sat and had any meetings or spoken to anyone."
Hamilton is currently tied to a long-term deal with McLaren but says he can see a situation where he will need someone to oversee future contract negotiations.
He added: "My plan is that when I do involve someone it will only be in preparation for next year to ensure it is a smooth year.
"I'm not in any rush to have one. I'm not of the opinion that I desperately need a manager.
Help
"It's just that you need help from certain people around you to make things easier.
"I can't sort my apartment, taxes, sponsor deals, emails from this person, that person. I can't deal with that stuff.
"So you do need someone around you, but at the moment I don't need a manager because I'm here for the next three years.
"If I wanted to I'm sure I could sit and negotiate my own deal, but you only really need to hire someone to come in and do the job at that point.
"So at the moment I've no plans. I've really not set in stone what I want to do.
"It's obviously not easy because I've come from having a manager my whole life, so I'm not going to just sign up with someone random and regret it.
"I'm really going to think about that, and it takes time to think of what I want for the future."