Alonso - Race 'manipulated'
Ferrari driver fumes after losing out behind safety car
Last Updated: 27/06/10 8:03pm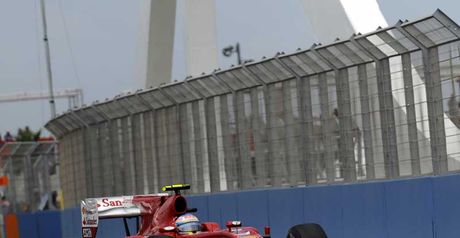 Alonso: Everything going against Ferrari
Formula 1 Betting

Formula 1 Betting

Bet with Sky Bet
After finishing eighth in Sunday's European Grand Prix, Fernando Alonso said the introduction of the safety car during the race in Valencia "manipulated" its outcome unfairly.
"Unfortunately everything goes against us and it seems they are allowing everything."
Fernando Alonso Quotes of the week
The Ferrari driver had run third during the race's early stages, only to drop down to 10th when the safety car was deployed following a spectacular accident involving Mark Webber on lap 10.
Alonso was tailing Lewis Hamilton at the time and was subsequently heard complaining to his pit crew about the McLaren driver's actions when the safety car came out.
Although Hamilton was later handed a drive-through penalty for passing the safety car illegally, he still finished second behind Red Bull's Sebastian Vettel.
In contrast Alonso, who unlike Hamilton slowed behind the safety car, finished ninth on the track, although he was later promoted one place after a number of other drivers were also penalised for safety car infringements.
"We were running well, in third after a good start. Then the safety car came out, which wasn't too good for us, but Hamilton overtook the safety car, something that I had never seen, overtaking the medical car with yellow flags," Alonso said.
"We were a metre off each other, and he finished second and I finished ninth."
Respect
Alonso said that even though Hamilton had been penalised, he and Ferrari had in effect been punished for respecting the rules.
"Unfortunately everything goes against us and it seems they are allowing everything," he fumed.
"This race was to finish second. Then with the safety car I would have finished where I finished in ninth, and Hamilton in eighth.
"But here, when you do the normal thing, which is respecting the rules, you finish ninth, and the one who doesn't respect them finishes second."