Rome considering GP bid
Italian capital to host F1?
Last Updated: 27/01/09 2:14pm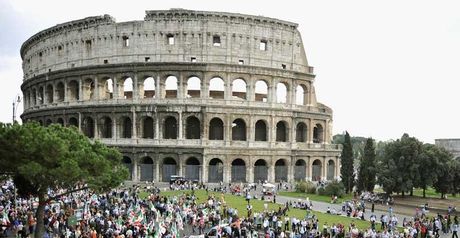 Possible destination: Rome
Formula 1 Betting

Formula 1 Betting

Bet with Sky Bet
The city of Rome is considering launching a bid to host a Formula One Grand Prix.
The idea of the Italian capital stagting a race has been suggested once before, back in 1984.
Then as now, the idea comes from former Formula Two driver and World Superbike promoter Maurizio Flammini.
"It's an idea Flammini has proposed and mayor Gianni Alemanno has said it is possible," a city council spokesman said.
The Romans face a tough battle to get on the calendar, however, with Bernie Ecclestone already making his intentions known to bring a race to South Korea in 2010 and India the following year.
Pressure is reportedly also being placed on the F1 supremo to re-introduce a race in North America.
Spain is currently the only country to host two F1 races every year, whilst Germany and Japan have agreed to alternate venues.
Italy already plays host to a grand prix at Monza each year, something which may also prove a stumbling block to the plans.
The proposed race would be a street race, following in the Monaco tradition, and more recently the footsteps of Abu Dhabi and Singapore.
The possibilities of street races in London and Paris have also been mentioned in recent years.
Not everybody is a fan of the increase in street races though, with Ferrari president Luca di Montezemolo voicing his dissatisfaction with the trend.
"At least Monaco has its own history but to have three or four Monacos is too much," di Montezemolo said last year.