Primus expects Crouch arrival
Pompey defender awaits striker signing
Last Updated: 07/07/08 11:09am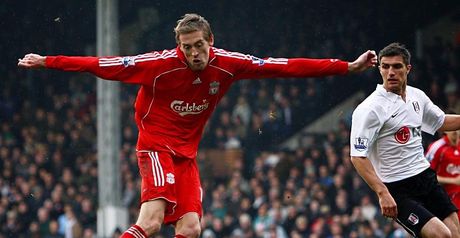 Crouch: Primus praise
Linvoy Primus is fully expecting Liverpool striker Peter Crouch to join him at Portsmouth this summer.
The England international has been heavily linked with a move to Fratton Park in recent weeks, with some of Monday's newspapers even claiming the deal could be done within the next 24 hours.
Pompey boss Harry Redknapp has made no secret of his desire to re-sign Crouch for the South Coast side, and the transfer appears to be edging ever-closer.
Primus told The News: "It looks like it will happen. I don't think it's a secret. I just think the clubs couldn't agree terms.
"It's like Gareth Barry going to Liverpool - you just expect it to happen.
"I don't think it was Peter stopping it - it boiled down to the two clubs getting together and sorting it out. That's usually the reason why these things take so long.
"Once the clubs agree I'm sure it's a done deal."
Asset
And Primus will be pleased when the move to bring Crouch back to Fratton Park is sealed.
The defender added: "He's going to be an asset and I'm sure a lot of fans would like to see him as well.
"I remember him first time around and he was always destined to go on and do well. You don't score 18 goals in a struggling team and not go and push on - and he has.
"Everybody knew about his ability. We used to see it in training every day and it's no surprise seeing him play for England and scoring goals. It was no surprise when Liverpool signed him."