Hleb honoured by Bayern link
Barca's former Arsenal midfielder eyes Munich switch
By Thomas Zocher. Last Updated: 05/03/09 10:38am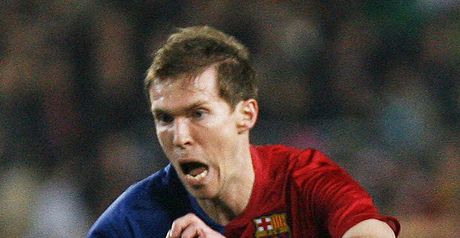 Hleb: Not happy at bench role
Alexander Hleb has admitted he would happily move to Bayern Munich, after the German giants were linked with the Barcelona star.
The former Arsenal midfielder has failed to live up to expectations at Camp Nou following his £12million move in the summer.
Now, with Barca reportedly looking to off-load him in the summer, a move back to Germany where he first made a name for himself with Stuttgart looks to appeal.
"I am right in the best years of my career and I do not want to spend those years on bench," the 27-year-old told Bild.
Special
"Bayern Munich is a special club, their interest in me is a delightful honour.
"If there is a club like Bayern interested, this is really great for everyone. Bayern is among the best teams in the world!"
Despite their obvious interest, Bayern chairman Karl-Heinz Rummenigge tempered the talk, insisting that they had not agreed anything for the Belarus international.
"If I am saying now that we are still keen, people think we have already bought him," said Rummenigge.