Petrucci welcomes United chance
Italian youngster joins Red Devils
By Chris Burton. Last Updated: 14/06/08 9:50am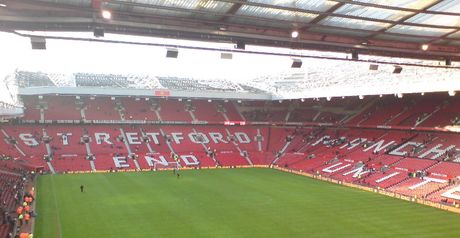 Old Trafford: Theatre of Dreams
Teenage star Davide Petrucci has joined Manchester United's youth academy.
The 16-year-old arrives at Old Trafford from Serie A giants Roma, with the Italian side receiving £200,000 compensation for a player they have nurtured through the ranks.
The young striker has been labelled 'the new Francesco Totti' in his homeland, and scored 14 goals in 19 appearances for Roma's youth team last season.
His impressive performances have seen him become a regular member of Italy's U17 squad, and big things are expected of him.
Petrucci admits that it was impossible for him turn down the offer to join United, but revealed that an offer to make his father a groundsman at the club also helped to sway his decision.
Opportunity
"Going to play for the strongest club in the world is a great opportunity for me," he said.
"It was hard to say no, even though I am a Roma fan and would have gladly stayed with them throughout my career.
"United have offered my father Stefano a job as a gardener and he will accompany me.
"I will go over on 30th June and start in United's academy the next day."
Petrucci added: "A month ago Roma offered me a contract on the minimum wage and they did not say how long it was for.
"I asked for a bit of time to consider it, as United's offer had already been made, but they gave me just three days.
"Roma closed the door on me while United opened another. They could have valued me more highly."