Agent makes Adebayor claim
Barcelona and Milan battle to sign Arsenal striker
Last Updated: 21/06/08 7:38pm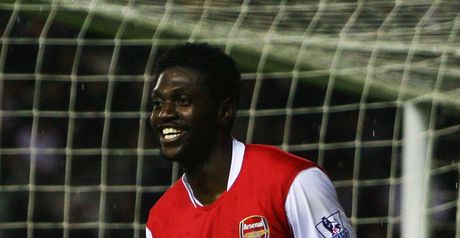 Adebayor: Wanted by two clubs
Super agent Ernesto Bronzetti claims Arsenal would prefer to sell Emmanuel Adebayor to Barcelona, but feels Milan have a '50 per cent' chance of signing the Togo striker.
Milan have put the former Monaco forward at the top of their summer shopping list after vice-president Adriano Galliani admitted it was 'Adebayor or nothing'.
Galliani conceded Milan's approach had been firmly rebuffed by Arsenal, but Bronzetti suggests a deal could be in the pipeline.
Bronzetti, who works on the bulk of Milan's major transfers, believes that the Italian club are still in the race to capture Adebayor.
However, Bronzetti says that the Gunners want to sell Adebayor to Barcelona amid reports the Spanish club are close to a £21million deal.
Motives
"Let's say we have a 50% chance, a lot will depend on the wishes of the player in the end," Bronzetti told Italian TV station Radio Radio TV.
"Arsenal want to sell him to Barcelona, for their own motives. Barcelona tell me they already have an agreement with the player.
"I only know that the Barcelona president, (Joan) Laporta, after having been doubted, now wants to shut everyone up by buying a big-name forward."
Bronzetti has also advised Milan not to bid for either Samuel Eto'o or Ronaldinho, who will be allowed to leave Barcelona over the summer.
Strategic error
He continued: "I do know they won't have the economic means to buy him until they sell Eto'o or Ronaldinho, so I'd advise Milan not to buy either of them or they'll finance the operation of taking Adebayor to Barcelona.
"(Saying the players weren't needed) was a massive strategic error. Now anyone who wants to buy those players is maybe going to wait until August 29.
"They've spent 57million euros already and their finances aren't infinite, so now if they wait a bit the price for Ronaldinho and Eto'o will go down."