Inter won't loan out Balotelli
Mourinho calls on teenage striker to work harder
By Nadia Carminati. Last Updated: 30/11/08 9:25pm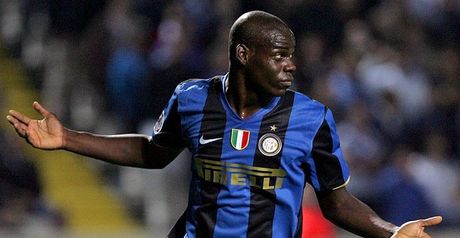 Balotelli: Must work harder
Inter Milan coach Jose Mourinho insists he will not be letting Mario Balotelli go out on loan in January.
Reports in the Italian media have claimed that Mourinho is prepared to allow the teenage striker to join another club in the New Year, with Bologna linked with a bid.
Balotelli was left out of Mourinho's squad for Sunday's 2-1 win at home to Napoli, but the coach says the 18-year-old is in his plans.
"In January, he will absolutely remain here," Mourinho told reporters. "He must only think of training himself in a good way."
Regarding Balotelli's omission from his squad to face Napoli, Mourinho admits he wants the youngster to work harder.
He added: "He must work more. This is also a responsibility of mine. We must work together and better.
"He's really young, he has big professionals in front of him and, from a person who is nothing yet, I can't accept he works less than them.
"He must work more."