Kagawa rejects United link
Japanese schemer dismisses talk of move to Old Trafford
Last Updated: 02/07/11 4:27pm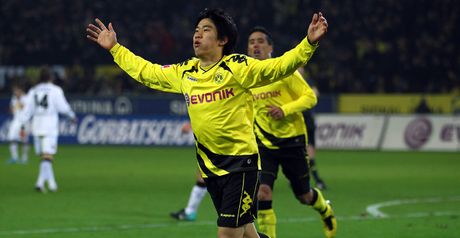 Kagawa: Insists he's happy at Dortmund
Emerging Japan star Shinji Kagawa has moved to cool reports linking him with a move to Manchester United.
The 22-year-old Borussia Dortmund midfielder impressed in his debut campaign in Germany after moving there from his homeland last summer and has been regularly linked with a move to the Premier League.
His involvement in last term's title winning campaign was curtailed by a broken foot in January and it is with surprise that he has reacted to rumours which have resurfaced over the summer.
Insisting he is focusing all his efforts on regaining full fitness and winning his place back in Dortmund's starting XI, Kagawa is adamant he is happy in the Bundesliga.
"I can only say that in Dortmund I have found a wonderful place to play football and I just feel comfortable here," Kawaga told German daily the Westdeutsche Allgemeine Zeitung.
"I must, for my part, first of all work on getting back into the Dortmund team, I have no time to waste on other things."
Having scored eight goals in 17 Bundesliga games during his first term in Germany it is no surprise he is attracting attention and while he is happy for the foreseeable future in Dortmund, he admits the lure of one of Europe's top clubs could be difficult to resist later in his career.
"If you look at the Champions League football on television, you see some really great clubs," he said.
"It gives you a lot to think about and a lot of possibilities open up."
Kagawa's existing deal at Borussia Dortmund expires in 2013.