Swimming: Thompson steps down
Obscure claim puts Australian coach on temporarily leave
Last Updated: 07/12/09 2:34pm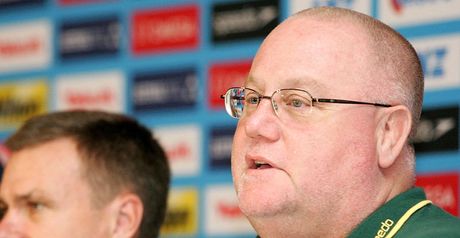 Thompson: On leave after allegation
Australia coach Alan Thompson is on leave following a mysterious allegation of "inappropriate behaviour".
Swimming Australia has confirmed Thompson has temporarily stepped down from his post after an anonymous source accused him of inappropriate behaviour.
SA chief executive Kevin Neil said in a statement: "The Swimming Australia board discussed the matter and Alan has agreed to take personal leave while we look into it further.
"As far as we know, the claim is not of a criminal nature," Neil added of the unsubstantiated allegation.
Since being appointed in January 2005, Thompson has overseen a successful period in Australian swimming.
The national team claimed six gold medals at the 2008 Olympics in Beijing and collected a combined total of 22 golds at the 2005 and 2007 FINA World Championships.
It also snared 19 at the 2006 Commonwealth Games in Melbourne.
However, it could only manage three at the most recent FINA World Championships in Rome earlier this year.