Skiing: Vonn wins in Austria
Olympic champion claims 20th career win
Last Updated: 08/01/11 4:29pm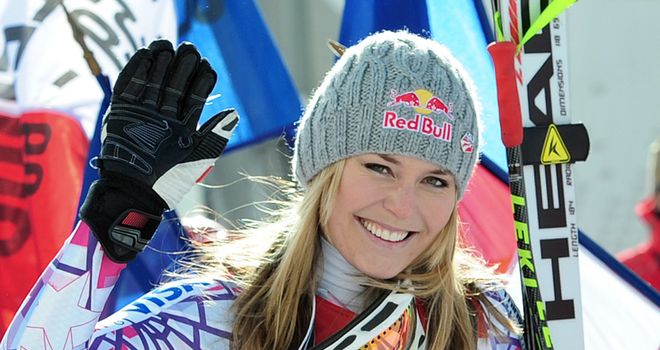 Vonn: 20th victory
Lindsey Vonn claimed her 20th downhill victory with a triumph in the women's World Cup race at Altenmarkt on Saturday.
The win, her fourth of the season, saw the American take a 50-point chunk out of Maria Riesch's lead at the top of the World Cup standings.
Vonn completed the course at the Austrian resort in one minute 46.39 seconds, beating Swedish veteran Anja Paerson by 0.43secs.
Austrian Anna Fenninger came in almost a second adrift in third while Riesch finished 1.05secs behind in fourth.
"I made a small mistake which was perhaps because of the snow," Riesch said. "It was very wet, and all of a sudden I was almost in the netting.
"At that point I said to myself that if I got through the next few corners I am going to maintain my speed to the finish.
"I did not think that it was finished at that moment, I thought if I was quick over the rest of the course, there was still a chance of winning."
Result:
1. Lindsey Vonn (U.S.) 1mins 46.39secs
2. Anja Paerson (Sweden) 1:46.82
3. Anna Fenninger (Austria) 1:47.37
4. Maria Riesch (Germany) 1:47.44
5. Andrea Fischbacher (Austria) 1:47.57
6. Lara Gut (Switzerland) 1:47.60
7. Dominique Gisin (Switzerland) 1:47.62
8. Elisabeth Goergl (Austria) 1:47.71
9=. Elena Fanchini (Italy) 1:47.80
9=. Daniela Merighetti (Italy) 1:47.80
Downhill standings
1. Lindsey Vonn (U.S.) 360 points
2. Maria Riesch (Germany) 257
3. Elisabeth Goergl (Austria) 187
Overall standings
1. Maria Riesch (Germany) 883 points
2. Lindsey Vonn (U.S.) 747
3. Elisabeth Goergl (Austria) 515