Kane - Give me Khali
'Big Red Machine' to settle differences at Summerslam
By Joe Drabble. Last Updated: 06/08/09 2:19pm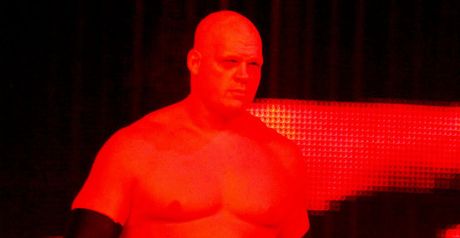 Kane: Wants to take down Khali at SummerSlam
Kane has told skysports.com that SmackDown is not big enough for both himself and heavyweight rival The Great Khali.
SUMMERSLAM

To order the event viewers can call: 08442 410888 (There may be an additional charge for telephone bookings). You can also book via the box office function on your remote control. Cable customers should contact their local cable operator. Sky Box Office terms and conditions apply.

"We are two big guys and I don't think SmackDown is big enough for the both of us."
Kane Quotes of the week

The 'Big Red Machine' and 'Punjabi Warrior' have built up quite a rivalry in recent weeks and could lock horns at the upcoming SummerSlam pay-per-view.

Kane stands at 7ft tall and a fight with 7ft 3in monster Khali would be one of the most brutal encounters in the history of the prestigious event.

And although the pair are not yet scheduled to fight on August 23, Kane exclusively told skysports.com that he expects to take on the 420-pounder in Los Angeles.

He said: "I don't have a match made yet, but The Great Khali and I have been crossing paths.

"If I was to speculate I would say yes I have a match with The Great Khali but that hasn't been made yet.

"We are two big guys and I don't think SmackDown is big enough for the both of us. He presents some challenges for me, he is the biggest guy in WWE along with the Big Show so I have to alter my strategy.
Great event
"Normally I can overpower the person I'm wrestling against and of course in this situation things change quite a bit. I may have to go to Rey Mysterio to get some pointers."
This summer's pay-per-view will be held at the Staples Center in LA with the main event seeing John Cena and Randy Orton fight for the WWE Championship.
Asked about the importance of the occasion and his past memories of SummerSlam, Kane said: "I would say it's the second biggest event of the year behind WrestleMania.
"It's huge and it will be neat this year coming from Los Angeles because their will be all sorts of celebrities and people like that there.
"And of course there have been some great matches at SummerSlam - like Wembley Arena, it's a great event.
"One that I remember was Brock Lesner vs The Rock - that sticks out in my mind, and going back to Wembley Stadium I remember The Undertaker coming to the ring with a crow and it was one of their weirdest entrances I have ever seen.
"As well as the Road Warriors at Wembley Stadium riding down on the motorcycles - they are a couple of the ones I remember."
WWE SummerSlam will be shown live on Sky Box Office channel 743 and Sky Box Office HD channel 753 on Sunday August 23 at 1am (Monday morning).