Cade found dead at 29
Former Tag Team champion dies of apparent heart attack
By James Coyle. Last Updated: 14/08/10 4:03pm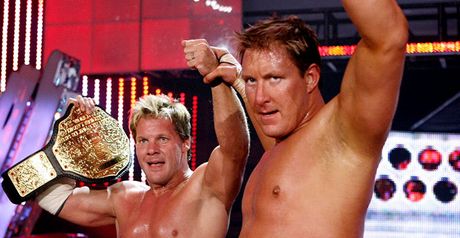 Cade (right)
Former WWE Superstar Lance Cade, real name Lance McNaught, passed away on Friday at the age of 29.
World Wrestling Entertainment were informed of the tragic news by McNaught's father, who claimed his son passed away due to apparent heart failure. Exact details on the cause of death are not known at this time.
The former three-time World Tag Team Champion's career with WWE span over five years, beginning in March 2003 until October 2008 when he was released by the company.
Cade's crowning achievements in WWE came whilst teaming with Trevor Murdoch, where the duo won the Raw branded World Tag Team Titles on three separate occasions.
On his final stint with the company, Cade formed an alliance with Chris Jericho where he helped the self obsessed Superstar retain the World Heavyweight Championship against former mentor Shawn Michaels at No Mercy 2008.
The next night however, on Monday Night Raw, Cade lost out to Michaels in an Anything Goes Match. This would prove to be Cade's last appearance on WWE television.
After being released from WWE, Cade returned to FCW, WWE's developmental territory, in September 2009, and was later released in April 2010.