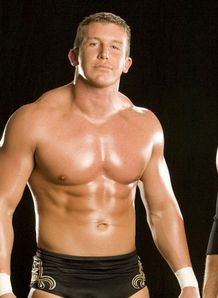 It felt good y'know. I think there were several years of pent-up frustration in that slap. I've been waiting for that one for a long time!
Ted DiBiase
Quotes of the week
He may come from a famous wrestling legacy, but Ted DiBiase is now setting about establishing a legacy of his own.
Not only is he the son of "The Million Dollar Man" Ted DiBiase, but he is the grandson of "Iron" Mike DiBiase and was clearly born to become a WWE Superstar.
But as part of The Legacy, alongside tag team partner Cody Rhodes and under the guidance of Randy Orton, DiBiase is establishing himself as one of the most exciting young stars in the WWE.
On Sunday night DiBiase and Rhodes will face one of the biggest tests of their careers to date when they come up against the legendary D-Generation X at Hell in a Cell.
The Legacy beat Triple H and Shawn Michaels at Breaking Point last month, but there will be no hiding on Sunday when they face the legends again in the confines of the Cell.
Ahead of the clash, skysports.com caught up with DiBiase to chat about stepping into the Cell with DX as well as reflecting on his appearance with his father on an episode Raw a few weeks ago.
You can read our chat below - and don't forget to book Hell in a Cell this Sunday - live and in HD - on Sky Box Office at 1am (Monday morning).
This is the first ever Hell in a Cell pay per view. Are you excited?
Ted DiBiase: I'm extremely excited... and a bit nervous. Have you seen the size of that cell? It's 20 feet and there's no climbing outta there. You're stuck in that thing and we're going to be stuck in there with two legends...
Have you wrestled inside a cell before?
Ted DiBiase: I've been inside a steel cage before, but never the cell. It's different because the top is closed in. You can climb out of the cage, but not this; you're locked in there. Being inside that thing is pretty intimidating and the two competitors I will be in there with are none other than Shawn Michaels and Triple H, so that factors in. But I think Cody and I are ready; we're ready to make another statement just like we did at Breaking Point.
Breaking Point must have been a pretty special night for you guys?
Ted DiBiase: Absolutely, it was my favourite moment so far. It definitely put us on the map; if anyone had any doubts whatsoever it shut those people up. It proved what we can do what we can do and what we're capable of. It was a huge moment for both of our careers.
Are you ready to take it up another level at Hell in a Cell?
Ted DiBiase: That's the point. The goal is not to stop there, but to continue and keep climbing the ladder. We shut the doubters up... and now I want to shut up Shawn Michaels and Triple H!
You may want to beat them, but do you respect those guys?
Ted DiBiase: I definitely respect them. How can you not? But right now it's personal and it's not their time any more. They're the past and we're the future. They're the ones we've got to go through.
Do you think the fact DX got back together was a backward step? Will they take the limelight away from the new breed?
Ted DiBiase: I don't think it's ever a backward step when DX gets together, but they don't need to take us lightly. They may have done that in the beginning, but that's certainly not the way they're thinking now.
Did you used to watch them when you were growing up?
Ted DiBiase: Yeah. I remember watching Shawn Michaels when he was with The Rockers a long, long time ago. I was a huge Shawn Michaels fan, but I wasn't a huge Triple H fan until they started DX. Then I saw them together and they kinda took everything by storm.
Have they given you any words of wisdom behind the scenes along the way?
Ted DiBiase: Of course. In the long run they are businessmen and they care about our product and our company. Something they've got to help to do is teach the next generation and they're awesome at that. We want this to carry on, we want this to continue - but sometimes egos, self motivation, selfishness and wanting success gets in the way of things so it doesn't always happen. But I want that job someday, very much so.
Somebody you've worked very closely with in the WWE is Randy Orton. What was it like to face him in the ring recently?
Ted DiBiase: That was an incredible moment as well. I think Randy is, without a doubt, one of the greatest workers we have right now and I think he'll be remembered for years from now. He's a future Hall of Famer and a future legend so being in the ring with him was a treat. It was hard, it was tough but I see a huge future with Randy Orton still to come.
Are you happy being part of The Legacy or do you see a time coming when you want to go and do your own thing?
Ted DiBiase: I'm very happy being with The Legacy. So far it's done nothing but boost my career. I've had more opportunities to be in main events and to come up against different people like Batista and Triple H. To stand alongside Randy and to watch him do what he does has given me tons of great lessons. It's been a huge learning experience and at the same time it's skyrocketed my career.
No plans to go solo too soon then?
Ted DiBiase: No. I'm in no hurry. Unless you've been talking to Cody and he's secretly trying to get rid of me...
Your father appeared on Raw a few weeks ago. What was it like appearing with him on worldwide television?
Ted DiBiase: That was cool, other than the fact he dissed me off so I had to slap him! But it was a very special moment for us. I'm a third-generation Superstar and my dad was from the second generation so it was great just to be in the ring with the Million Dollar Man, one of the greatest villains ever. But also that's my dad and I was in the ring with him. I'll never forget when I debuted and he introduced me and it was tough to come up behind him and cut a promo. But that was the first night we've stepped inside a ring together and it was really cool.
What was it like to slap your own father?
Ted DiBiase: It felt good y'know. I think there were several years of pent-up frustration in that slap. I've been waiting for that one for a long time!
He was a great guest host, but if you could pick anybody to guest host an episode of Raw who would you choose?
Ted DiBiase: Wow... anybody? Maybe Arnold Schwarzenegger? I'd like to see him in a wrestling ring. I picture him in Commando and The Terminator and he seems like a pretty tough dude but I'd like to get a piece of him myself.
So you'd like to have a match with Arnie?
Ted DiBiase: That would be cool. I think I could take him down because he's a bit old and out of shape... a little bit like DX is now!
Sky Bet Odds:
Click Here for Your Free Bet