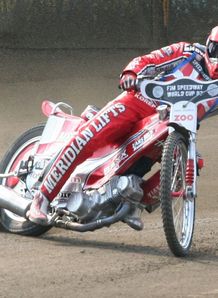 Related links
Teams
Also see
Peterborough Panthers have confirmed the return of Hans Andersen as their number one for next season.
It will be the third season in succession for the Danish star - who led The Panthers to Elite League glory in 2006.
"I am very settled at Peterborough. I live close to the track, I love the track and I see absolutely no reason for this to change," Andersen told the Evening Telegraph.
"I am a Panther through and through so why would I ever want to race anywhere else?
"Both myself and the promotion are very ambitious and I can't wait for next year to start."
Delight
Panthers chief Colin Horton was delighted to have secured Andersen's services for the forthcoming season.
"Hans is the consummate professional and we struck a deal in a matter of minutes," said Horton.
"Not only does Hans possess an abundance of talent, he is an extremely loyal man and that earns utmost respect from me.
"The past season has been difficult for me personally, but Hans has stood by me 100 per cent and I could not have asked for any more from him.
"I am certain he will go on to be one of the greatest riders ever to represent Peterborough - he is already a legend in my eyes."
Sky Bet Odds:
Click Here for Your Free Bet