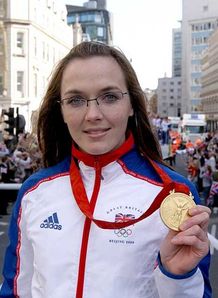 I did what I had to do and it all seems rather insignificant compared to what he has achieved. I just want more medals to win.
Victoria Pendleton
Quotes of the week
Also see
Victoria Pendleton has warned 2012 Olympic chiefs that London would face embarrassment if female cyclists could not take part in the same number of events as their male counterparts.
Pendleton landed Olympic gold in Beijing in the women's sprint, but that was just one of three titles up for grabs for the women in the velodrome.
Male riders competed for seven medals with Chris Hoy making history by grabbing three of them, but fellow sprint superstar Pendleton was not given that chance by the rules.
Team GB landed eight golds in Beijing but that number could rise in London in four years if cycling and Olympic chiefs agree to raise the number of female events.
Pendleton even feels that her own performance has been left feeling insignificant compared to Hoy's special performance - which is even more frustrating given she never even had the chance to compete for more golds.
London plan
Whilst modelling the new Sky+ HD Trade Team kit in Manchester, Pendleton slammed the current Olympic cycling programme for women and called for chance in London.
"It will be an embarrassment for London 2012 if there isn't an equal number of events for men and women at the Games," said Pendleton. "They have to be the same.
"It's an embarrassment in this day and age that there is a discrepancy between male and female events. We're not living in the dark ages here."
Pendleton was delighted for GB team-mate Hoy in Beijing, but as she has also won world titles in the keirin and team sprint - Pendleton could realistically have matched the big Scotsman's achievements in Beijing given the chance.
"Obviously I'm really happy for Chris," Pendleton added. "He's an amazing athlete and when anyone asks me who my hero is I say Chris Hoy, even before he became triple Olympic champion.
"But in some respects I just wish I would have had the opportunity to do that, but I didn't even have the chance.
Unfair
"It is unfair, especially when Chris is hailed as the nation's hero, that I haven't even got the opportunity to compete in the events that he does and win more than one medal.
"I did what I had to do and it all seems rather insignificant compared to what he has achieved. I just want more medals to win."
Pendleton admitted that countries would have to unite to lobby the International Olympic Committee (IOC) to add more women's races.
"We are hoping to try and campaign to get it changed in 2012 but we don't really know how much we can do," she said.
"It's really not down to us. We need an international response so me alone is pretty insignificant on the scale of things.
"All the other nations of the world have to put pressure on the IOC to make this happen."
Sky Bet Odds:
Click Here for Your Free Bet