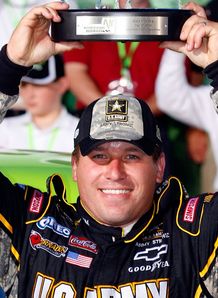 Also see
Ryan Newman claimed pole position for the Coca-Cola 600 after a daring run around the high-line at Charlotte Motor Speedway.
The 2008 Daytona 500 winner will start from the front of the grid for the second consecutive time at the North Carolina track after taking pole last year.
But the 32-year-old has never managed to win the marathon race, which traditionally takes place on the same day as the Indy 500.
Newman said that he had to produce "the most courageous lap" he's ever run around Charlotte to claim top spot.
"I've never run into a corner at 200 mph up against the wall and made it stick and still come out the other end," he said.
Courage
"To have the courage to put yourself in that position is tough enough, let alone doing it, pulling it off and winning that pole. I've never been a guy to run the wall, let alone in qualifying."
Newman is now looking to turn his qualifying form into consistent race pace on Sunday
He added: "It's been easier for me to go out and run one lap and do it fast than it is to go out and run 600 miles fast.
"I could do that, it's just a matter of putting yourself in the track position, putting yourself in the right position, right tires, a good pit crew and things like that."
Kurt Busch, who took victory in the All-Star race last time out, was narrowly beaten to pole while Martin Truex Jr will start in third place.
Kasey Kahne, Jimmie Johnson and 2009 winner David Reutimann follow, with Sprint Cup championship leader Kevin Harvick only managing 23rd.
Dale Earnhardt Jr also produced a below-par qualifying and will line-up 24th while Reed Sorenson, Max Papis, David Stremme and Mike Bliss failing to make the 43-car field.
Sky Bet Odds:
Click Here for Your Free Bet