Federer exclusive
Roger Federer talks Wimbledon nostalgia and ongoing rivalries with Andy Murray and Rafael Nadal.
By Follow me on Twitter @SkySportsPeteF
Last Updated: 20/06/11 4:55pm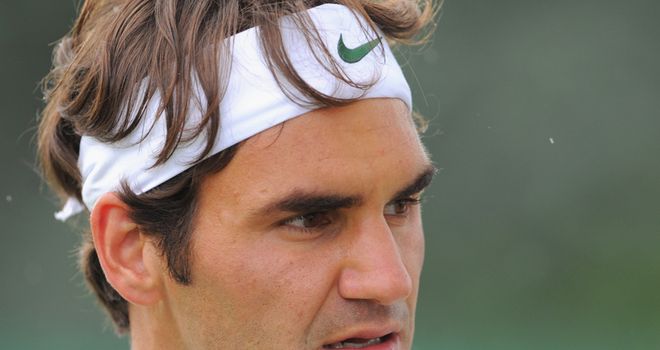 Twelve months ago Alejandro Falla came close to causing one of the most sensational shocks in the history of Wimbledon.
The little known Colombian led Roger Federer, then the defending champion, by two sets in the first round at the All England Club and came within three points of a famous win before eventually losing what was a dramatic contest.
For Falla's opponent, a six-time Wimbledon winner who had Pete Sampras' record of seven successes in sight, it was a foreign experience and, although a first-round exit was avoided, he was to ultimately suffer disappointment in the quarter-finals.
Elimination in the last eight to giant Czech Tomas Berdych in the wake of the scare against Falla was obviously a painful underachievement for Federer, who is considered by many to be the greatest the game has ever seen.
It has also been a contributing factor in his fall below fierce rivals Rafael Nadal and Novak Djokovic in the world rankings and means he is only seeded third for the 2011 Wimbledon.
Consequently, ahead of Tuesday's opening match, this year against Mikhail Kukushkin, Federer is a man on a mission.
You have enjoyed huge success at Wimbledon, but 2010 was a difficult tournament for you. What sort of emotions does the competition create for you?
It is always one of the good times in the year. I have so many memories of Wimbledon from a young boy. To get back to winning ways at Wimbledon is also very exciting. I had a decent tournament last season in the quarter-finals, but I should have maybe lost in the first round. I know I got fortunate. I hope that this year I can go further, be back in the Wimbledon final and give myself a chance to win. I have to practice to see how it feels being back on the grass, but usually it comes back very naturally. Being at the club as a member just feels really, really nice and I will enjoy every minute that I spend at the courts.
Wimbledon is obviously a world-famous tournament. Do you suffer from nerves before you go on court?
Yes, but it is not a bad thing because I might even play a bit better when I'm nervous - the excitement, the adrenalin. Of course it can also make you freeze at times and not play so freely. I'm sure I will be nervous on the opening day of this Wimbledon just because of the history of last year. I am not the defending champion so I want to do really well in the first round. But I think once the tournament gets going, like any other tournament, I will start to feel comfortable and start to play my very best when the second and third round come around. In the first round, you never know, there is always an uncertainty. Getting back to Wimbledon, playing there, it is going to be my first grass court match of the season, it is going to be tense and nice and tricky, but I am really looking forward to it.
Have you learnt about the history of Wimbledon? Is that something that interests you?
I know it is where it all started. I still consider myself a big historian in terms of all the greats of the game, not just at Wimbledon, but all around. That is because the game has changed a lot in the last 50 years, it has changed a lot in the last 100 years. Wimbledon has taken part in this in a massive way, it has some solid history. Thirty-eight years ago people boycotted Wimbledon for the good of the game in order to support a player who was not allowed to play (81 of the top players boycotted Wimbledon in 1973 to protest the suspension of Nikola Pilic). Wimbledon has a very influential role in tennis.
Do you enjoy visiting London as a city?
I have got to know it a bit better since the World Tour Finals at the end of 2010, which is something I have really enjoyed. I stayed in a hotel in the city, whereas during Wimbledon I stay in a house in the Village. Honestly, I didn't know London that well, the way I was supposed to. During the three weeks of Wimbledon I would go to town let's say maybe four times on average. That is not much and all of a sudden you realise, 'I don't know my way around' when there are all the famous streets and monuments. That is why I was very happy to spend more time in the city day in, day out during the World Tour Finals. Once you start to know a place, like a place, love a place, you like to experience more of it. I'm sure that is what is going to happen over the next few years for me.
Wimbledon will be a chance to renew your contest with Rafael Nadal. Do you think about the context of the rivalry in sport as a whole, not just in tennis?
Yes, Rafa is my biggest rival even though I have played Novak a bunch of times. (Lleyton) Hewitt is a great rival as well. I guess with Rafa what makes it very special is that we have played in Grand Slam finals many times and we have had some really big matches, nail-bitters. For me, it has been a lot of fun playing against him. I would love it if we play again at Wimbledon. But time changes quickly. They said that the new wave had come after the Australian Open when Novak and Andy (Murray) played in the final. Then we played in the final of the French Open and it (all the talk) is me and Rafa again. I don't like to jump too quickly into those people who change quickly. Our rivalry will always stay the way it is and when we do play each other it is always very special. I think that is something very nice. It is nice that we are both still playing at our very best at the moment, and that our best is better than most of the guys out there. I think we are very appealing to watch when we play each other. We have styles that face-off very differently against each other. He is a lefty, I am a righty. I play with a one-handed backhand and that is quite extraordinary with his lefty spin. I just think it is very intriguing. If we play at Wimbledon it would be fantastic.
You mentioned another of your rivals, Andy Murray. How impressed have you been with his development?
He has proven his point, although he didn't need to prove to me that he could play tennis. It was disappointing that he didn't play so well from Miami through to Rome, but you go through phases like that sometimes. But he has done well to give himself several opportunities to win Grand Slams. It is not going to make it any easier every time you lose in the final, but at the same time he has done nothing wrong, he is on the right track. He has beaten the best so many times. He has beaten me multiple times, he has beaten Rafa multiple times, he has beaten Novak multiple times. He doesn't need to prove his point to us because we know the danger in playing Andy, especially at Wimbledon with the crowd behind him, which is something that has been a completely different animal. He is doing all the right things and, alongside us, he is one of the big favourites to win Wimbledon this year.
You mentioned the attention that Murray receives at Wimbledon. Does that ease the amount of pressure on you?
Not really. There are always three, four or five stories in every tournament and I don't think everybody only focuses on Andy. At the end of the day, it is a Grand Slam, there is always room for stories. I don't think Andy feels like he is under the microscope, even though he is being followed very closely. I have the same feeling every tournament I go to, and Rafa has the feeling too, I am sure. Whatever we do, people do listen and the press rooms are full, so there is always pressure. Everybody is waiting for something to happen. If you win in straight sets, it is what is expected. If you win in five sets, it is a huge story. If you lose, it is a shock. It is always the same thing and you have to face the music. I have come into Wimbledon with maybe more pressure, yes, but at Wimbledon I always have pressure to some degree because I want to do so well. I expect of myself to go forward and to win, to be quite honest. Anything else would be a slight disappointment. That is how high I have set the standards.
You had to pull out of playing in Halle in the build-up to Wimbledon. How do you feel about your current form and fitness?
Good. I have had some tough years in the past with my back, and the rest we all know, but in the past year and a bit more I feel really good. Everything is holding together. I can almost practice and play as many times as I wish. I don't have to plan around all the injuries like I had to in past years. Even though I could always play, I had niggling stuff more frequently because I was lacking the practice sessions due to injuries or sickness. But this last year I have been able to play a full schedule. I have played tonnes of matches already this year, so I am happy. It has been a good run for me.
Have you changed over the years? Do you wish that sometimes you did not have to put in the practice and the hours in the gym?
It was nice to all of a sudden have a bit of a break, a bit of a breather. This was obviously a different story because I was supposed to play a tournament (Halle) and I felt bad not being able to fulfil my commitments. It was not something I was going to do summersaults about because I felt bad towards the tournament. There are other times when I schedule my vacation and, honestly, I love every second about my vacation. But then when I return to practice I really enjoy it. I think I have found the right mix and balance between practicing, tournaments and days off. That is key to a player's mind. I don't know how many players really take vacation. After the Australian Open, I took two weeks off and I was at the beach every day. I only started to workout after nine days. When I was young I used to take maybe two weeks without doing anything and wouldn't play tennis for almost three-and-a-half weeks. I can get away from it all, I have no problem. That has been a big key to my success. I am not crazy about having to play tennis every day or having to workout every day, but when I do, I love it.
Finally, you are a famous football fan. Did you watch Switzerland at Wembley a few weeks ago?
My friend was at the stadium and he sent me a picture. I saw the match and it was a pity that we couldn't win. But England are not so easy to beat at Wembley, (laughing) we all know that.
And the club you support, Basle, won the Swiss league. What did you make of the season?
We almost didn't win it and then snatched it on the last day. So that was another great season for Basle. It made me very happy. It is good for Basle, but the national team are struggling a little bit. We are going through some changes. We have some famous Swiss players who have just retired. The team is very young right now. It is going to be tough to qualify for the European Championship, but I hope that the England game was a step in the right direction.
Roger Federer uses the Gillette Fusion ProGlide razor which gives Gillette's most comfortable ever shave. To check out Gillette's biggest ever shave featuring Federer, visit www.facebook.com/GilletteUK