How the ATP World Tour finalists compare
Eight players will battle for the 2012 ATP World Tour Finals title. Barry Cowan takes a closer look at their highs and lows...
By Barry Cowan
Last Updated: 05/11/12 6:01am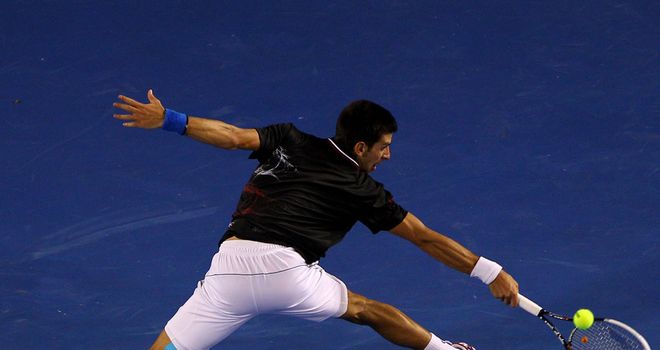 High: Winning the Australian Open for a second year in a row was an incredible statement but if you take the season as a whole, the highlight has to be finishing the year as World No 1. To back up what he achieved last year is an amazing feat - especially as he didn't win another major after Melbourne. It just goes to show how consistently strong he's been.
Low: Djokovic has never won the French and when rain interrupted this year's final against Rafael Nadal, his best chance yet was washed away. Djokovic was trailing 6-4 6-3 2-6 1-2 at the time but he'd turned the tables and the momentum was with him. If they'd stayed on he might have gone on to win a fourth Slam in a row. We'll never know.
Improvement: Areas of his game have got better; he's coming forward with greater confidence now than he's ever done and he's also stronger from the back of the court. On the downside, though, he hasn't been as secure when it comes to winning big points in matches. That's why I'm so in awe of his final ranking position.
Best O2 Moment: For a player of his calibre they are too few and far between. I believe his best moment is still to come and we could well see the best of Djokovic yet at London. When he walks through the door at the O2 fresh - which hasn't necessarily been the case so far - the rest had better watch out.
Roger Federer - best O2 finish: winner, 2011 & 2010
High: Without a shadow of a doubt it has to be winning Wimbledon after losing the first set to Murray. Having suffered a few knocks mid-season, the way he turned the match around was mightily impressive. That might be his last Grand Slam win - only time will tell - and if it is, claiming a record-equalling seventh Wimbledon title and 17th Slam overall isn't a bad way to sign off!
Low: The Olympic final because that was the first time that I've seen Federer taken to the cleaners. He was up for the challenge but came across as lacklustre as Murray motored to gold. It was all the more perplexing to see him beaten 6-2 6-1 6-4 just weeks after the high of Wimbledon. It was as if we were watching Federer being eclipsed by the next generation.
Improvement: He was playing unbelievable tennis at the start of the year; back then I thought that he was a better player than he was three or four years earlier. But as things stand at the moment he's not in the same shape as he was 12 months ago. It's been an incredibly tough season for him; he's had to play a lot more and that's taken his toll. Despite his record, he won't be first or second favourite at London.
Best O2 Moment: Beating Jo-Wilfried Tsonga in last year's final stands out because it gave him the impetus to have the year that he's had, featuring that Wimbledon victory and his return to the World No 1 spot. The emphatic way in which he won his matches last year gave him a great platform for 2012. Those 50-50 matches that he might have lost before, he was winning.
Andy Murray - best O2 finish: semi-finalist, 2010
High: Although winning the US Open was the standout result, beating Federer in the Olympic final was the catalytic moment because it gave him the impetus to win in New York. I don't believe that he would have broken his Grand Slam duck without winning that gold medal.
Low: There haven't been many of consequence but that said, losing the Wimbledon final was a crushing disappointment. What Murray has done so well this year - under Ivan Lendl's expert guidance - is turn his lows into positives. He's had his fair share of knocks over the years but he's learnt from them and come back a better player.
Improvement: He comes to the O2 this year with a lot more confidence and self-belief, which means he can perform to a higher level under pressure. He now has the ability to go after opponents when his back is to the wall and not just wait for things to happen.
Best O2 Moment: His epic battle with Nadal in 2010 may have ended in defeat but it was one of the greatest three-set matches I've seen - both players produced such incredible tennis. When you look back over the years at the matches Murray has lost, I think they've been huge stepping stones for him down the line. As much as it hurt, he would have taken a lot of positives from that.
David Ferrer - best O2 finish: semi-finalist, 2011
High: He's won more titles this season than ever before, including Valencia and Bastad, without bagging that career-defining win. He did beat Murray in four sets to reach the semi-final of the French but that was expected, so if you take his year as a whole for me the distinguishing feature remains his ability to be there or thereabouts each and every day and back up what he's achieved in previous years.
Low: Undoubtedly it's when his US Open semi-final against Djokovic was suspended due to a severe weather warning. At that point Ferrer had a clear edge, having taken the first set 6-2, and it was clear that Djokovic wasn't quite there. If they had played for another half-an-hour and Ferrer had been a set and a break up, the match could have had an entirely different complexion. He was so close to reaching his first Slam final, but on the resumption Djokovic was a much more determined man.
Improvement: He's definitely getting better and better so it must be frustrating for him to remain the fifth best player in the world! That's why my respect for him is unbelievable - he almost has to work harder than everyone else just to stay in touch. He hasn't closed the gap, yet he doesn't seem dispirited.
Best O2 Moment: That came last year when he beat both Murray and Djokovic in straight sets to progress from the group stages before he lost to eventual winner Federer in the semi-finals. I wouldn't bet against him reaching the last four again this year, although a lot will depend on how the groups pan out.
Tomas Berdych - best O2 finish: semi-finalist, 2011
High: Beating Federer in four sets to reach the US Open semi-finals for the first time. That and the couple of titles he's won, in Stockholm and Montpellier, will easily be eclipsed though if Berdych helps the Czech Republic to Davis Cup glory over Spain. This time, unlike three years ago when the Czechs had to go to Spain and play on the clay, he'll feel they've got a great chance to win it. That would be some way to end the year.
Low: He probably felt he couldn't do much worse after losing to Ernests Gulbis in the first round at Wimbledon, but it did as Steve Darcis sent him packing from the Olympics at the very first opportunity. He must have felt he had a chance of a medal in both the singles and the doubles at the start, because he and Radek Stepanek had been doing well.
Improvement: Berdych has definitely stepped things up in terms of his mentality. The way he's recovered since that Olympics shocker helps to prove as much. He's a much better player now than he was 12 months ago, although I'd be hard pressed to say he's closed the gap on the top four.
Best O2 Moment: He managed to earn a match point against Djokovic last year but couldn't take it and lost in three sets. His forehand let him down badly on that occasion but it's one of a number of areas of his game that are a lot stronger now.
Juan Martin del Potro - best O2 finish: finalist, 2009
High: Argentina won just four medals at the London Olympics - and one of them belongs to Del Potro. After losing that epic semi-final to Roger Federer 3-6 7-6 19-17 a lesser player might have crumbled but he re-gathered and came back to beat second seed Djokovic in straight sets. Another highlight would definitely be his victory over Federer in Basel; finally after all his injury problems he's been able to claim a big win and it was all the sweeter for beating Federer in his own back yard.
Low: For me it's his Grand Slam record this year. He reached the quarters in Australia and the fourth round at Wimbledon, but I feel he's further away from winning another Slam than he's ever been since that memorable victory at the 2009 US Open. In terms of technique, his reluctance to come forward has stopped him from winning big matches that were there for the taking.
Improvement: There's no doubt that Del Potro is working harder than ever and it's starting to reap dividends, as we saw at Vienna and Basel. We mustn't forget that he's still incredibly young; at the age of 24 time is still on his side but he has to work on his movement.
Best O2 Moment: A couple spring to mind. Firstly, he made the final in 2009 - the first time the Finals were staged at the O2 - only to lose in straight sets to Nikolay Davydenko. Secondly, I must give him the credit he deserves for qualifying for the Finals once again after dropping down the rankings. It can't have been easy working his way back up.
Jo Wilfried-Tsonga - best O2 finish: finalist, 2011
High: Winning Olympic silver in the doubles with Michael Llodra and beating Milos Raonic 6-3 3-6 25-23 in the singles - the longest contest in Olympic history - have to be in contention. But the match that really stands out is his five-set thriller against Djokovic at the French. He performed at a level that you don't normally expect to see from him on a clay court and ultimately he came up short, but it was an exceptional match.
Low: He's had a really good year - not a great year - rather a consistently solid one, yet that's not necessarily a good thing as it has stopped him being a 'wildcard'. Players now know what to expect from him. His record against the top 10 remains poor; he's only won one match and lost 11. I think that's the reason that he has hired Roger Rasheed as his coach - to try and improve in that area.
Improvement: In all honesty I don't believe that he's improved this year. He's a great player - you have to be to get into the top eight in the world - but his record would suggest he's not quite performing to the level he should. In contrast from May last year he had won nine and lost nine against the top 10 players in the world. That suggests to me that he has plateaued.
Best O2 Moment: This is an easy one - reaching last year's final, against Federer. Tsonga played a couple of shots in the second set tie-break that for me were incredible moments. He always brings a certain presence to the O2 - and it's great that it's back because with more or less the same field qualifying for the Finals, the tournament can't afford to lose his personality. He puts bums on seats.
Janko Tipsarevic - best O2 finish: round-robin, 2011
High: He may be there as alternate but he's made it back to the Tour Finals and now will be aiming to emulate last year's round-robin victory over Djokovic. Someone of Tipsarevic's ability will realise that in this modern era his chances of winning a Slam are extremely slim so qualifying for London is a great goal to aim for. If he can rediscover the level he found in the US Open where he gave Ferrer a real scare, there's every chance he can back up what he did last year.
Low: In all fairness, I feel he's starting to get the best out of what he has although it was disappointing to see him lose quite so comprehensively to Tommy Haas in Shanghai. Perhaps he might have added more titles to his career tally than just one this year, but overall it's tough to find much to fault him.
Improvement: Quite simply he's turned his career around: where before he was a bit suspect mentally, he now seems to possess a level of belief that allows him to mix it with the best. As a result he has continued on an upward curve - the challenge now is to continue to defy gravity in 2013.
Best O2 Moment: Stepping in last year as Murray's replacement and coming from a set down to beat Serbian compatriot Djokovic in three. Now he's had a taste of it I'm sure he'll be even hungrier to impress and this year he's got the added bonus of being able to settle in from the first day.
Barry's Tournament Verdict
It's been a strange week in Paris, with Djokovic and Murray going out surprisingly early but I don't believe that either of their losses will affect their preparations for London. Those two have been the best players on Tour for the last few months and I fully expect them to face each other in the final.
The head-to-head matches between Djokovic and Nadal were last year's story; this year it's all about Murray and Djokovic. Their epic matches at the Australian Open semi-final and the US Open final were incredible, while their showdown in the Shanghai was the best Masters final we've had all year. If they were to meet again in London, it would really cap off the year in fine style.