Andy Murray to push on after defeat to Roger Federer in ATP World Tour Finals, says Boris Becker
Boris Becker says Andy Murray's loss to Roger Federer may propel him to new heights next year.
Last Updated: 12/11/12 10:21am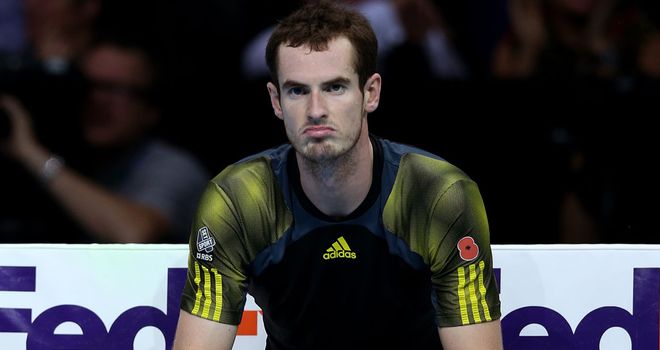 Murray says he's enjoyed the best year of his career after claiming his maiden major at the US Open and picking up an Olympic gold medal, but his final match of the season ended in disappointment as he lost his last-four clash at the ATP World Tour Finals in straight sets.
Murray was booed by sections of the O2 Arena crowd as he capitulated to Federer in the second set of their semi-final and Becker says the taste of defeat may act as an additional motivation when he returns to the court in January.
"Maybe, in a funny way, that's exactly the spark he needs," said the Sky Sports pundit. We've been celebrating him - and rightly so - for the last couple of months as the first Brit to win a major in 76 years and the best thing since sliced bread.
"Well, he's not there yet and maybe this was a wake-up call at the right time in the last game of the year. He's going to go through and have a burning desire to improve even more because the success he tasted at the US Open was very sweet."
Coach
Murray's coach, Ivan Lendl, has spoken of his desire to guide the Scot to multiple major titles and to become the world number one player.
Becker says he has made huge strides in 2012, but felt he became rattled during the second set against Federer and there are still lessons for him to learn.
"I was a little bit disappointed," he added. I thought he'd moved on, I thought he'd really learned a lot and matured - and there's no shame in losing to Federer, absolutely not.
"But the way he almost gave away the last couple of games was disappointing and I'm sure in a quiet moment some time in the next couple of days he would agree.
"He put so much effort in. The start was so good and he played the right way, but his last couple of games weren't the greatest of the year.
"They won't talk about the match tonight. He should have a beer or two and relax and celebrate an unbelievable breakthrough year.
"But when the time is right - and Ivan is professional through and through and he knows when to pick up the phone and meet again - they will go through the last couple of games of this match."