Sport in 2014: Jeff Stelling, Bumble and Stevo reveal their hopes
The Sky Sports faces, including Jeff Stelling, Bumble, Stevo and Ewen Murray, look ahead to 2014.
Last Updated: 01/01/14 12:39pm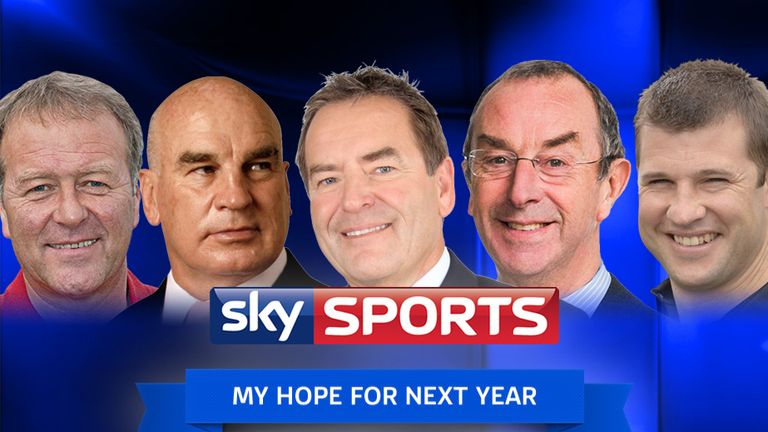 The Sky Sports pundits know most things about their sport, but even they can't get a crystal ball out and tell us what is going to happen over the next 12 months.
But all the famous faces know what they want to see transpire, so scroll down and see just what our experts are hoping for...
Jeff Stelling - Football
The easy thing for me to say would be for Hartlepool United to go up. I'm really looking forward to seeing England give the nation a real lift by performing way above what's expected at the World Cup in Brazil and with some of the young kids we've got coming through now I think we could upset some people out there and do much better than expected. When you do well in big tournaments there's such a feel-good factor around the whole country, so that's what I'd like to see.
David Lloyd - Cricket
It's domestic T20 again. It's being revamped and I think there is going to be a bit more razzmatazz. What are they going to come up with? Is it going to be a better product? I think it's going to be played a lot on Friday evenings and from our perspective at Sky we want to see entertainment, fun, and getting the young 'uns involved.
Mike Stephenson - Rugby League
Next season could see another team fighting out for trophies in Salford Reds. They are financed by one hell of a character in Dr Marwan Koukash - this bloke will set a few hearts racing and could make the RFL sit up and take notice with his gung-ho attitude and oblivious attitude of salary caps. He will have them all at Red Hall wondering what he's going to do next and that should make 2014 worth watching and when you look at Sky Sports' opening rounds of the season, all fans of the greatest game of all will be drooling with excitement ! I cannot wait!
Barry Cowan - Tennis
I have a feeling of the way the year is going to go and I think Novak Djokovic is going to be the player - I think he is going to win three Grand Slams, possibly three - but the battle to end the year as world number one will be fascinating. Andy will be aiming to get there for the first time but it will be difficult because his rivals, Novak and Rafa Nadal, win titles on clay and he has never won one. Having said that, I do think Murray has the game to do better on the red stuff.
Ewen Murray - Golf
The number one player in the world this time next year will be Rory McIlroy. It's been difficult listening to former players and so-called experts say that Rory's change of clubs has been his problem. His equipment is up there with the best that is manufactured today. His loss of top form has arisen through the litigation he has had to deal with off the course. No player can focus or concentrate on golf while all of that is going on around you. During the season, his back swing changed a little and he addressed that fault. His performances in recent weeks were encouraging so it was no surprise he won a thrilling shoot out with world number two, Adam Scott in Sydney, denying the Masters champion a home triple crown.