Roger Federer takes on Lindsey Vonn in Jungfraujoch - Top of Europe
Roger Federer scales new heights against Lindsey Vonn in chocolate heaven. Raz Mirza pays a visit to Switzerland to find out what all the fuss is about...
By Razwan Mirza - Tweet me: @RazMirza
Last Updated: 22/08/14 6:16pm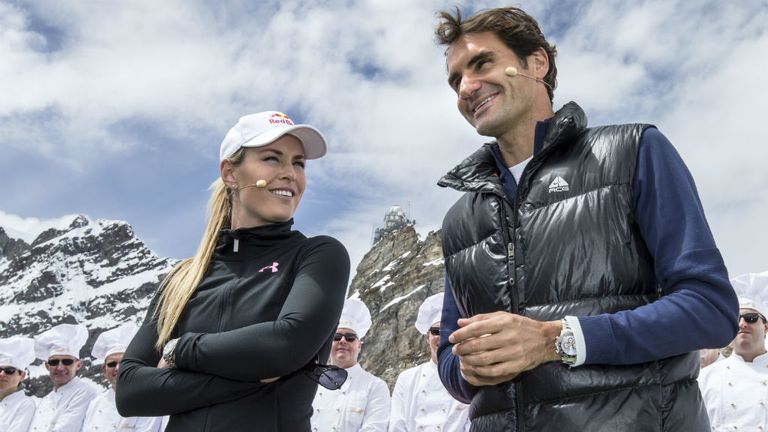 Chocolate and Roger Federer - everything that is great about picturesque Switzerland. Throw in Olympic skiing gold medalist Lindsey Vonn and you get the ultimate challenge.
"Heaven" I hear you say! Well, the idea of watching 17-time Grand Slam champion Mr Federer flexing his muscles in an exhibition match with 'The Don' against the backdrop of the Alps can only be described as breathtaking.
Landlocked in Western Europe, Switzerland has a population of around eight million and shares land borders with Germany, Austria, Liechtenstein, Italy and France.
Did you know ...
Swiss chocolate companies made over 172,376 tonnes of chocolate last year and Swiss people consume the most chocolate per capita in the world.
The country is famous for cheese, watches, cow bells, knives, banks, alps and chocolate. Oh! And we mustn't forget tennis with a production line of top-ranked players - Federer, Stan Wawrinka, Martina Hingis and new kid on the block, 17-year-old Belinda Bencic.
Not surprisingly, 70 per cent of the country is covered in mountains, while the landscape ranges from 643 feet above sea level in Ascona to 15,199 feet above sea level in The Dufour Peak.
The Swiss are pretty efficient and unsurprisingly everything is done with real precision and accuracy (like a Swiss watch) - the rail network which extends some 3,100 miles is never (OK, almost never) late.
Location and transportation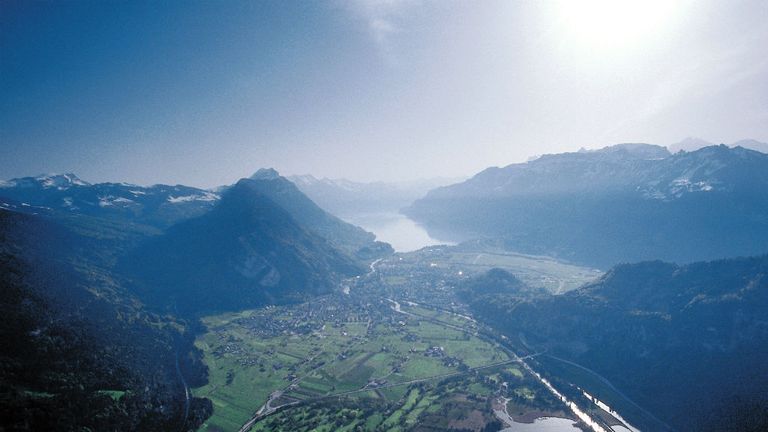 Following a quick flight over to Zurich, I collected my Swiss flexi pass which offers you benefits for up to six freely-selectable days within any one month, and just a couple of short train hops later (including a quick platform change at the capital, Bern) I was in Interlaken up in the Bernese Alps.
The town is a unique location in the heart of the eternally snow-capped Jungfrau region mountain, between Lakes Thun and Brienz and at the foot of world-famous icy icons Eiger, Mönch and Jungfrau.
Where to stay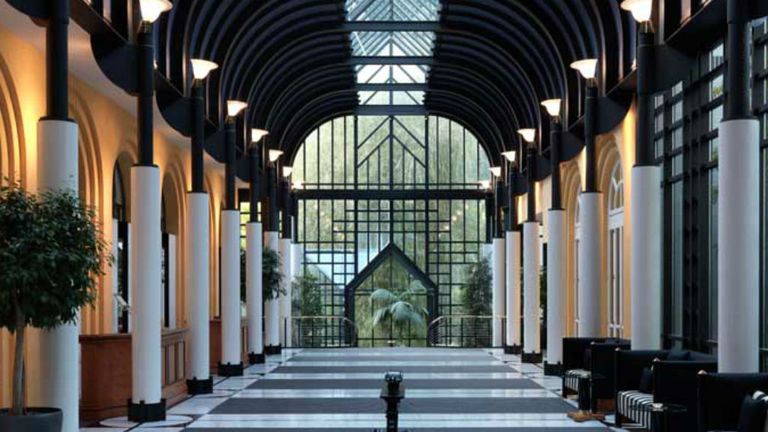 The five star Victoria-Jungfrau Grand Hotel & Spa enjoys a privileged and picturesque location and boasts two hot tubs and an outdoor salt water pool. The sauna area includes a steam bath, bio-sauna and a fireplace lounge.
If you fancy a game of tennis the facilities include two indoor courts and three outdoor clay courts. Thanks to the heated balloon hull the outdoor courts can be used from November to the end of April.
What to do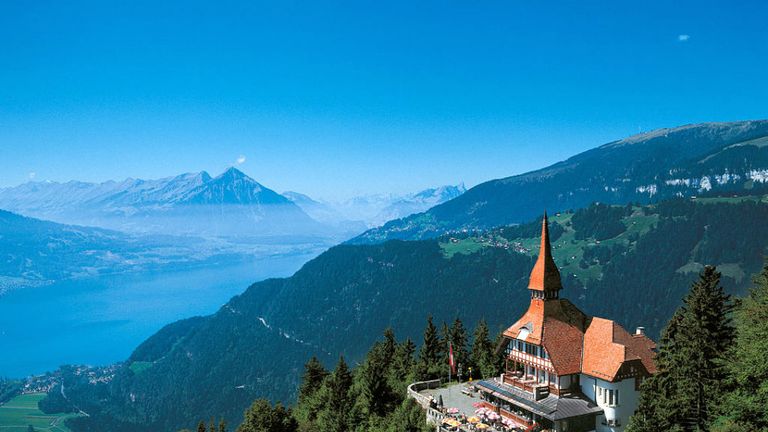 The first thing that struck me whilst making the short walk from the train station to the hotel was the abundance of paragliders enjoying the ariel view of Interlaken on their way back down to earth.
If you have a fear of heights, then do not despair because there are plenty of other activities to do such as canoeing, fishing/angling, boat cruises and visiting the Bönigen Lido and Jungfrau Park.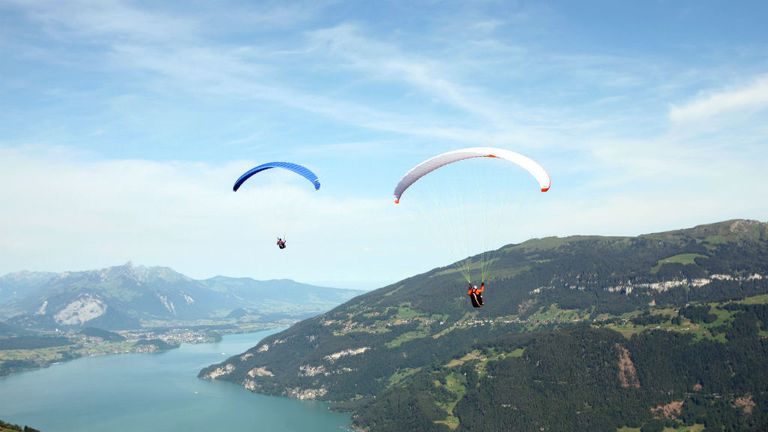 I spent my first evening taking in the jaw-dropping views from Harder Kulm, Interlaken's home mountain. It can be reached in eight minutes by cable car which travels up 1322 metres above sea level.
The steepness of the ride surprised me most, but once at the top, the restaurant, which looks like a small castle, offers some spectacular panoramic views from the terrace - especially at sunset.
Jungfraujoch - Top of Europe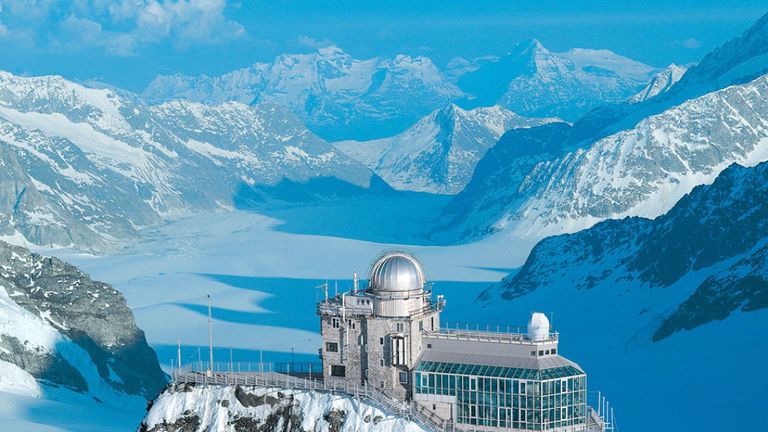 After that experience, you wouldn't think that things could get any better ... wrong!
The next day I travelled just the 3,454 metres above sea level to a place called Jungfraujoch - Top of Europe for the grand opening of Lindt Swiss Chocolate Heaven by none other than brand ambassador Roger Federer.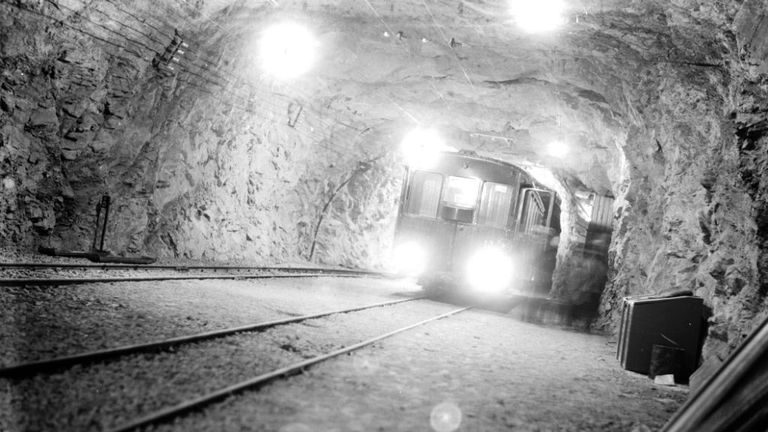 The rail journey to the top is the high point of any Swiss holiday. 
From Kliene Scheidegg, the cog-wheel railway named the Jungfraubahn, which has been running since 1912, travels year-round through the tunnel and over the steep climb up to the Jungfraujoch with spectacular views of the Eiger north wall and surrounding glacier world.
Did you know ...
The country is famous for producing some of the world's highest quality chocolate after inventing modern techniques such as conching and tempering.
With a croissant in one hand and coffee in the other, I took in the sheer size and scale of the view on the way up.
As you rise up through the green valley the landscape is dotted with the four seasons of the year. You get five minutes to stop and view the notorious Eiger north wall - a mammoth sight it is too!
Once at the top you can see the valley below to the north, the Aletsch glacier to the south, which is the longest alpine glacier at a length of 23 kilometres, and other towering 4000 meter peaks to your east and west - a sight to behold.
The Ice palace, Ice Gateway and Sphinx viewing terrace are must-see and you can now top it all off by going into the new chocolate heaven shop and taste a variety of flavours - Rond de pistache was a particular favourite of mine.
Fed v The Don
After my chocolate tasting session, it was time for the main event, where a tennis court had been erected on the Sphinx terrace on the Aletsch glacier.
It's not the first time that a publicity stunt had been staged here, with Wladimir Klitschko and Tony Thompson locking horns ahead of their bout in Bern in December 2009 and a year later cricket legend Kapil Dev led a side of ex-India players against an International select XI. India won 109-105.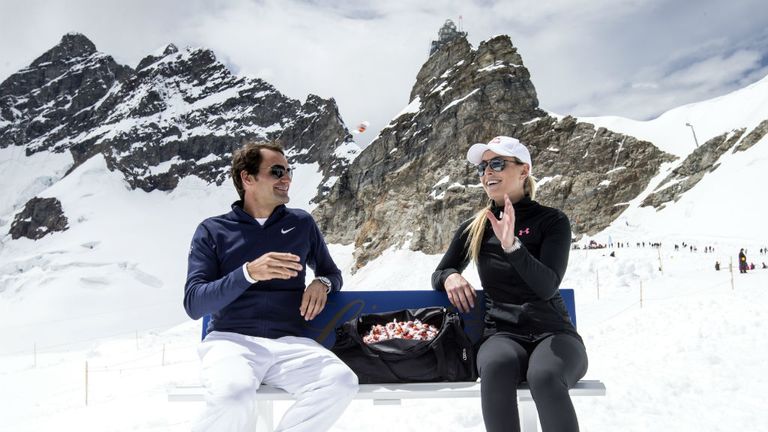 Federer was playing tennis for the first time since his Wimbledon final defeat to Novak Djokovic and went up against his good friend Vonn after challenging her via Skype.
With temperatures touching minus two and altitude a worry for the hundreds of watching spectators, these two superstars were having no such problems adapting to the conditions.  
Vonn, who has been recovering from an injured right knee which kept her out of the Sochi Winter Olympics, showed her prowess around the court in a leg brace, while Federer revelled being back out on the court. It didn't seem to matter who he was playing - the old killer instinct was back.
I am where I want to be and I've put myself into contention. Wimbledon was great - it was a great tournament. Overall, I was very happy with the way I played.
Roger Federer
The 32-year-old revealed that he had taken time out since his five set defeat at the All England Club to spend some quality time with his family as well as getting his hiking boots on to do a spot of climbing in the Swiss Alps.
Having lost count of the score and the result, we gathered for the post match press conference and I went straight in with the first question .... "Roger, can you win another Grand Slam title?" ...
"I hope so," Federer replied with a gleaming smile. "I'm happy to be playing well again. It's been a very positive year for me because last year was hard on so many levels with my back and losing confidence with my movement.
"I am where I want to be and I've put myself into contention. Wimbledon was great - it was a great tournament. Overall, I was very happy with the way I played."
Glacier restaurant
As Federer and Vonn boarded the waiting JCB digger for their grand depart on a helicopter we headed to the Jungfraujoch glacier restaurant which provided a great culinary experience with a once in a lifetime view.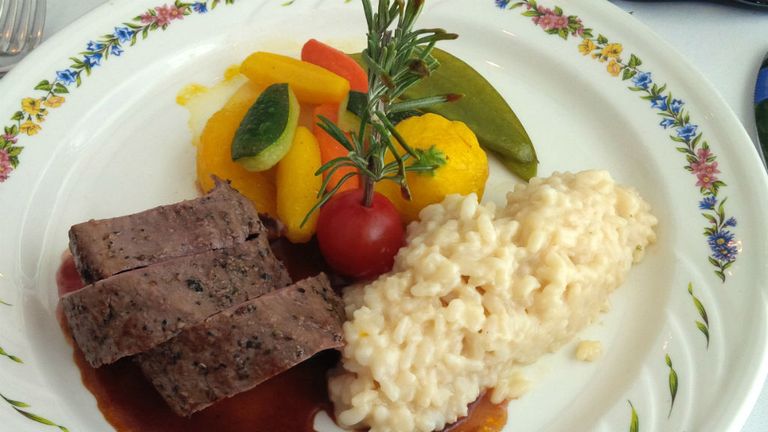 The restaurant concentrates on traditional Swiss cuisine, which it executes well.
The Grindelwald-style appetiser was followed by the roast fillet of veal in whiskey sauce with champagne risotto and glazed vegetables.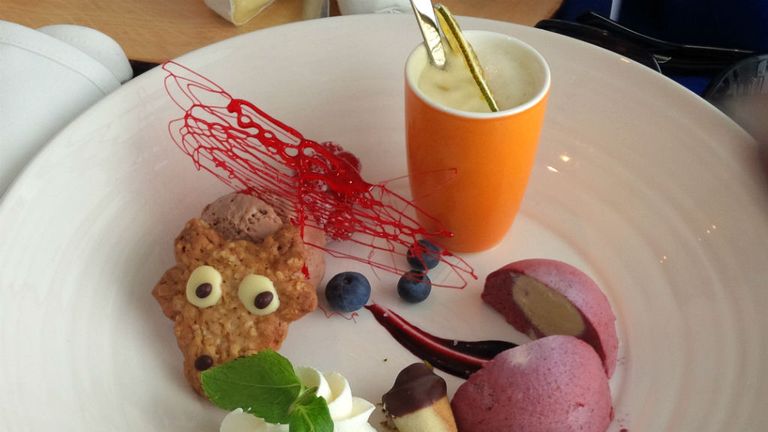 But the best was yet to come ... The Top of Europe dessert was an assortment of goodies with Lindt chocolate mousse, homemade sorbet, cassis and Bailey's mousse and hazelbut-gianduia wafer.
We headed back down the mountain to experience more of the picture-book Switzerland that is Interlaken and there's one more thing I had to do... sneak a box of chocolate into my suitcase for the trip home.