Fired up and focused
Andy Murray's on-court anger shows he is still focused on becoming world No.1, says Mark Petchey.
Last Updated: 12/10/12 3:22pm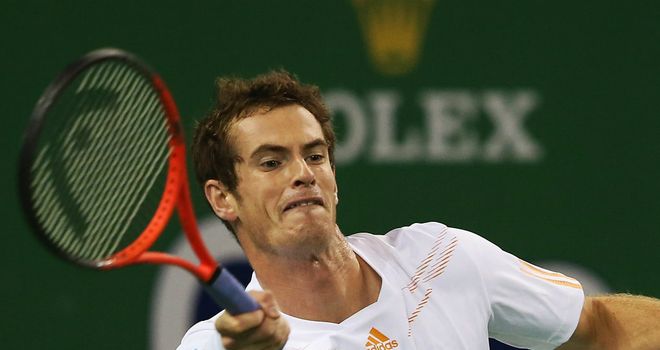 Andy Murray's anger on court at the Shanghai Masters shows the Brit is still fully focussed on achieving world number one status, says Mark Petchey.
Murray finally secured his first Grand Slam title at the US Open but there were no signs the Scot is taking his foot off the pedal as the season edges towards its end.
Midway through a 6-2, 6-2 cruise past Alexandr Dolgopolov on Thursday Murray smashed his racket and he was again visibly annoyed with himself after going a set down to Radek Stepanek in Friday's quarter-final match-up.
Murray recovered to win 4-6, 6-2, 6-3 to set up a semi-final clash with either Roger Federer or Marin Cillic and Petchey told Sky Sports his former charge is determined to continue racking up World Tour points, even at this stage of the year.
"I think Murray is trying to guard against complacency," Petchey said. "He's thinking: 'I've achieved my goal, my lifetime ambition, by winning a Grand Slam, but I don't want to be coming into these tournaments flat'.
"He was winning comfortably against Dolgopolov and then got frustrated when he was broken back. I feel he's purposely trying to get himself fired up because he's worried that complacency is something that could creep into his game at this stage of the season.
"These are vital tournaments for him in terms of his quest to become world number one."
Stepped up
Petchey was also impressed with Murray's display against Stepanek, especially with the way the world number three raised his game after an overly defensive start to the match.
"I thought he did well against a tricky guy who was playing well, who makes life difficult and who can get under your skin a little bit," said Petchey.
"When Radek is doing good things out there and Andy's not moving so well that also causes the frustration to come through.
"In the opening four games you go out there, see how your opponent is playing and don't offer up too much too early on, but given the way Murray's played this season I just felt he was playing the long game a little too much. That's not the way he's been winning tennis matches this year.
"But it is tribute to Murray that he got himself out of the rut. He might have lost this match 12-18 months ago but suddenly there was a lot more intensity about his footwork and he was making things happen."