Jo-Wilfried Tsonga isn't reaching his potential, said Annabel Croft
Annabel Croft reflects on a frustrating performance from Jo-Wilfried Tsonga at the World Tour Finals.
Last Updated: 08/11/12 10:39am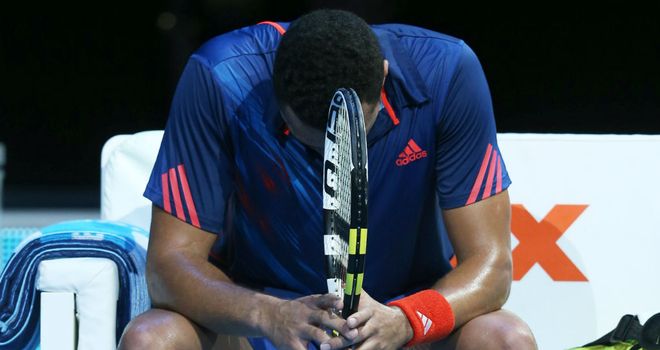 The Frenchman looked to be on course for an impressive turn around in the World Tour Finals group stage clash but, despite a second set fightback, succumbed 7-5, 3-6, 6-1 to his Czech opponent.
That defeat, coupled with his opening straight sets loss to Novak Djokovic, leaves Tsonga with only a remote chance of qualifying for the semi-finals and Croft says she had hoped to see more from the world number eight.
"It was disappointing from Tsonga," she told Sky Sports.
"In the second set he was so fiery and we saw what he's capable of; when he thumps the ball as hard as he can and takes control, dictates play and moves forward into the court he is unplayable.
"But he fluctuated so much throughout the course of that match. There were times when you look at his body language out there and he looks confused, he looks like he doesn't quite know how he's meant to be playing his tennis.
Impressive
"The worst thing you can be doing as a tennis player is thinking about how you are playing; it needs to be instinctive out there.
"His coach Roger Rasheed has quite a lot of work on his hands because getting that balance right with someone who has so much talent is going to be quite tough."
Boris Becker, meanwhile, praised the performance of Berdych and said the world number six, who lost to Andy Murray in three sets on Monday, has boosted his semi-final chances.
"I thought, overall, it was a very impressive performance by Berdych," said Becker.
"He was very solid and very consistent. Obviously against the flamboyant Frenchman it's difficult because he's so up and down but overall Berdych deserved the victory.
"He plays good tennis; he had a good match against Andy Murray and a better one against Tsonga. He's very much in this tournament now."