Swiss still rolling
Sky Sports' Mark Petchey says O2 runner-up Roger Federer can still mix it with the world's best players.
Last Updated: 23/11/12 4:16pm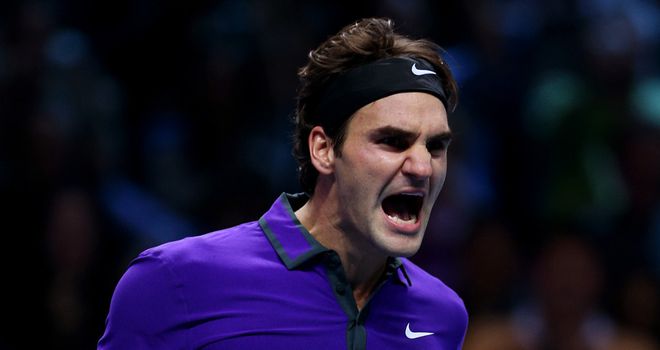 The tennis season concluded in thrilling fashion at London's O2 Arena on Monday night as Novak Djokovic bested Roger Federer in the ATP World Tour Finals showpiece.
Mark Petchey commentated on the clash for Sky Sports and the morning after the night before he popped into the Sky Sports News studio to reflect on a pulsating 2012 campaign that saw Andy Murray become the first British man in 76 years to win a Grand Slam.
Read on for Petchey's take on whether Swiss maestro Federer, who won his seventh Wimbledon crown in July, still has 'it', Murray's improvement under the tutelage of Ivan Lendl, which player might gatecrash the world's top four in 2013 and more...
Roger Federer's future
"Novak Djokovic's movement around the court and his ability to get one ball back and then another ball back builds such a psychological pressure on all of his opponents and that happened against Federer on Monday night, but Federer had his chances and although I'm not sure he would have won the match, he certainly could have taken it to a third set.
"Roger is still there and thereabouts and to lose to the world number one in the manner that he did is no cause for concern. Federer's fitness trainer did an interview recently in the New York Times and said the Swiss has not lost a step around the court, even at the age of 31, while he still works really hard. He doesn't run quite as much but he shortens points and he is blessed genetically."
Andy Murray's development in 2012
"The US Open was massive but the Olympics were bigger in the fact that he beat Federer in a big final and that set him up nicely for New York and then when he took on Novak in the Flushing Meadows final the confidence was there. It doesn't matter how much you train, what else you do on a practice court and who else you get involved, it's about being in that position and having had bitter experience in the past, victory was all the sweeter.
"He has had his greatest season in 2012 - and the greatest moment in British tennis for 76 years - and 2013 is very optimistic. You can't say he is going to start wrapping up Slams as he has a couple of decent contenders, but they do not have that psychological advantage over him any more, and Andy will now be more confident at 5-5 in the fifth set of a Grand Slam."
What coach Ivan Lendl has brought to Murray's game
"Andy has always had a big game but he had been reluctant to use some of his tools. That has changed, while we have also seen some minor technical adjustments to his forehand to make it a more secure shot. Plus, he now takes the match to other players and is not hoping they miss on break point.
"But you look at what Ivan has achieved in the sport and matches up against some of the all-time greats and some of his records stand today, so if you've got that guy in your corner telling you: 'Don't worry, I know you lost but I was in this situation and this is what I did to come back and dominate the Tour for a number of years'. That's the big difference for Andy."
The highlight of 2012
"Andy's US Open triumph was an amazing thing to witness. I have been involved in British tennis for so long and worked with Andy at the Federation and got to know how he works, what he has sacrificed and how much it meant to him to win a Major, and with that crowd - an American crowd that appreciate his arty and intense style of player, like they did with John McEnroe and Jimmy Connor, behind him and in a fifth set? You couldn't have scripted it better."
Whether injury victim Rafael Nadal can fire again
"Given what I hear and given that his uncle has said that he will play an exhibition at the end of December, I've got to believe that he is going to come back as the same player. It may take him a couple of months to get up to full match fitness, as you can't recreate the emotion and what happens in a match situation in practice, but he has played so many matches and been in that situation so many times that come the Australian Open I would be very surprised if he went there and lost early. He is that good a player and he and the top three have separated from the pack, so he will be a force to be reckoned with."
Which players can make their mark in 2013
"I think Juan Martin Del Potro is the one that seems to have enough in his game to trouble everyone and he will be the guy to watch in the first four or five months of next season. I think he will still need to add a few little touches but he is good mover and because he has a Slam he mentally believes he can beat the top guys over and over again, as it is one thing to beat them one week but another to have a good spell.
"That's where Tomas Berydych has struggled; he has a good month but then goes away and you can't break in if you are going to do that. You cannot help but respect David Ferrer, too as he has maximised everything he has got. He is a phenomenal athlete and a great rhythm player but against the top guys he probably doesn't have that massive shot, like Del Potro's forehand and serve, and I don't think he has enough (to win a Slam)."
The 2013 Grand Slams
"I expect Rafa to win the French Open if he is fit as he is still the best on clay by a long shot, but Australia is tough to gauge as it is so early on in the season, while as we've seen this year, Wimbledon and the US Open are wide open. It could be another year where we have four different winners but having said that it could be a year where if someone grabs the Australian or the French, we could have one of those remarkable years where someone goes on and wins all four; as competitive as the game is, if someone can get on a roll I can see that happening."