Roger Federer thinks he still has plenty of big titles left in him
Tennis great Roger Federer says he is not planning to retire yet and is hoping to win more big titles.
Last Updated: 03/06/13 12:33pm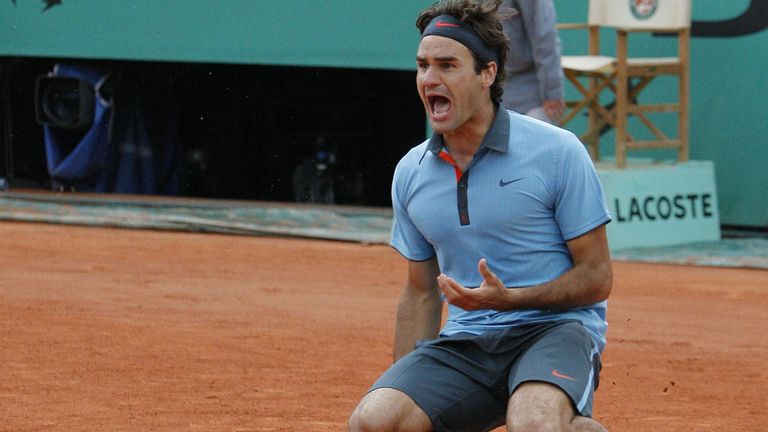 Regarded by many as the greatest player ever, the Swiss 31 year-old has amassed 76 career titles, including a record 17 Grand Slams.
And, speaking to Sky Sports' Kirsty Gallacher on the eve of the French Open, Federer says a potential retirement date is not on his mind.
"I still have the goal to play for many more years to come," said Federer. "I love the game, I love everything about it.
"I even love practicing, which is not something I enjoyed too much in the past.
"I've always been hungry for success and I have to stay like that, otherwise I'm just hanging around."
Regarding the possible manner of his retirement when he does quit the pro circuit, he added: "I don't think about it, I try to push it away.
"I feel like, the more time I start thinking about how an exit would be, then it is just around the corner."
Federer is currently third in the world, albeit quite a few ranking points short of top dog Novak Djokovic.
And he added: "No 1 is going to be unlikely, especially in the near future but, for me it's really about winning the big tournaments.
"I don't play 30 tournaments like I used to. I only play about 16 to 18, so those are very important to me.
"I try to win as many as I can, and I can tell you there's no better feeling than leaving at the end of the week, having won a title."
Golden era
Many observers think we are in the midst of a golden era of tennis, due to the incredibly high standards being set by the world's top four of Federer, Djokovic, Rafael Nadal and Britain's Andy Murray.
Asked what was special about the group, Federer said: "I think it's the consistency of the top four guys
"And, if you look at the individual characteristics of each player and the way we play, we're all very different, and I think that's what people are interested in.
"There's a strong rivalry but also a good friendship. We are four guys who actually get on pretty well.
"Without them, I wouldn't be the player I am today, and I've really enjoyed the rivalry we've had."
Asked what he hoped his legacy as a player would be, he added: "I just want to be remembered as a good guy for tennis, who hopefully inspired a group of younger players coming up.
"I hope that I brought the game forward, and that people enjoyed watching me play.
"I've had such a wonderful time on the tour and there's still more to come."