Wimbledon champion: Andy Murray in his own words
We pick out Wimbledon champion Andy Murray's best quotes from down the years.
Last Updated: 07/07/13 7:08pm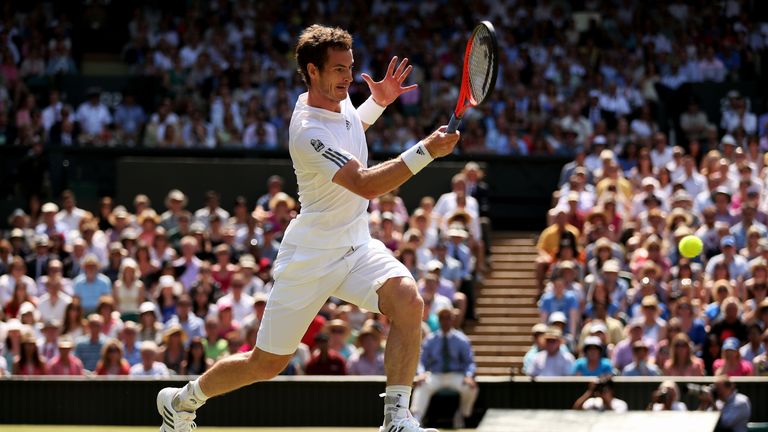 Twelve months on from a four-set defeat to Roger Federer that reduced him to tears, Murray finally followed in the footsteps of 1936 champion Fred Perry and gave Britain's its first male singles winner for 77 years.
We pick out some of Murray's best quotes down the years.
AFTER WINNING THE US OPEN BOYS' TITLE IN 2004: "I've been compared to Tim (Henman) a lot and to be compared to someone who has been in the top 10 for six or seven years is great. I think I have got a chance of going all the way in tennis and that's what I want to do."
THINKING BIG IN 2005: "I want to get into the top 10 - then maybe I can get a date with Maria Sharapova!"
ON THE BRITISH MEDIA FOCUS, SPEAKING IN OCTOBER 2005: "I have watched Tim Henman go through it in the last 10 years, and I hope they [the media] are a bit nicer to me than they were to him."
AFTER LOSING IN THE 2006 AUSTRALIAN OPEN FIRST ROUND: "If you guys expect me to play well every single match and every single tournament then it's not going to happen."
AFTER SUCCEEDING TIM HENMAN AS BRITISH NUMBER ONE IN FEBRUARY 2006: "If you're number one in your country it's obviously nice but it doesn't mean anything to the other players, whereas if you're in the top 10 in the world that's pretty special."
ON RECEIVING A GOOD-LUCK CALL FROM SIR SEAN CONNERY DURING WIMBLEDON 2006: "There's nothing cooler than being woken up by James Bond."
ON WHO HE WOULD BE SUPPORTING AT THE 2006 WORLD CUP: "Anyone but England."
AFTER A BACKLASH TO HIS "ANYONE BUT ENGLAND" COMMENT: "I made a joke, I don't mind whether England win or lose!"
ON BROTHER JAMIE (speaking in 2005): "My brother is very talented. He was the number two junior in the world when he was 13, then he went down to an LTA school in Cambridge and they ruined him. It was their fault."
AFTER WINNING SAN JOSE TITLE IN 2006, HIS FIRST ON THE ATP TOUR: "It's the biggest moment in my life in tennis so far."
AFTER LOSING TO ROGER FEDERER IN THE 2008 US OPEN FINAL: "I'm disappointed right now. I could have done a few more things and given myself a few more opportunities."
AFTER LOSING TO FEDERER IN THE 2010 AUSTRALIAN OPEN FINAL: "I'm getting closer (to a grand slam). My results in the grand slams would show that. I've just got to keep working hard."
AFTER DEFEAT TO RAFAEL NADAL IN THE 2010 WIMBLEDON SEMI-FINAL: "I don't feel like I played terribly. I've had some good wins against Rafa where I played great tennis. But he played great, and that was the difference. There's a great player in the final."
AFTER LOSING TO NOVAK DJOKOVIC IN THE 2011 AUSTRALIAN OPEN FINAL: "He played great although I would have liked to have played better."
ON WORKING WITH NEW COACH IVAN LENDL AT THE 2012 FRENCH OPEN: "There's not been one radical change. A lot of it is minor details. But if you pick 10 small things to work on and change, that can turn into a big difference."
AFTER LOSING TO FEDERER IN THE 2012 WIMBLEDON FINAL: "I'm getting closer. If I wasn't emotional I guess I'm probably in the wrong sport."
FOLLOWING AN OLYMPIC FINAL WIN OVER FEDERER: "I've had a lot of questions asked about me many times. I'm just glad I managed to put on a performance I've been waiting for. To win, in the way I did, makes those losses a little bit easier to take."
AFTER DEFEATING DJOKOVIC TO WIN THE US OPEN, HIS MAIDEN GRAND SLAM, IN 2012: "It's great to have finally done it. I hope now it inspires some kids to play tennis and also takes away the notion that British tennis players choke or don't win or it's not a good sport."
AFTER LOSING TO DJOKOVIC IN THE 2013 AUSTRALIAN OPEN FINAL: "I know no one's ever won a slam, the immediate one after winning their first one. It's not the easiest thing to do. And I got extremely close."
AFTER BEATING JERZY JANOWICZ TO REACH A SECOND WIMBLEDON FINAL, IN 2013: "I was almost maybe expected to get to the final this year from early in the tournament. I was just delighted to come through and get another chance to play in a Wimbledon final."
AFTER WINNING WIMBLEDON FOR THE FIRST TIME IN 2013: "That win was for myself but I also understand how much everyone else wanted to see a British winner at Wimbledon. I hope you guys enjoyed it."