Wimbledon final: We compare the careers of Novak Djokovic and Andy Murray
We chart the path to the top of this year's Wimbledon finalists Novak Djokovic and Andy Murray.
Last Updated: 06/07/13 4:38pm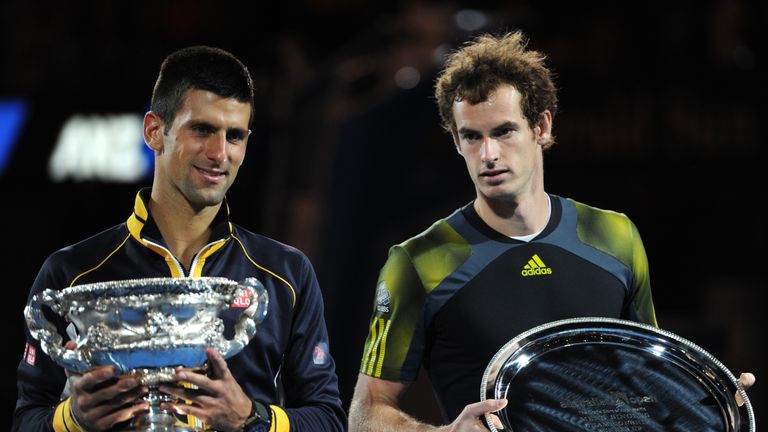 The pair were born only a week apart in May 1987 and here we chart their path to the top.
Juniors
They played each other for the first time at the age of 11 at a tournament in France, Murray winning easily, and it was the Scot who had a better junior career. He won the prestigious Orange Bowl aged 12 and the US Open junior title in 2004. While Murray headed to Barcelona to train as a teenager, Djokovic left Serbia at the age of 12 to work with Niki Pilic in Munich. His best performance at a junior slam was reaching the Australian Open semi-finals in 2004.
Early days on tour
Both players were quickly successful on the Futures and Challenger Tours, with Djokovic winning his first title in June 2003 in Serbia a month after his 16th birthday. Murray lifted his first senior trophy three months later in Glasgow.
First Grand Slam appearance
Murray was given a wild card into his home grand slam at Wimbledon in 2005 and won two rounds before losing to David Nalbandian from two sets up. Djokovic also made his grand slam debut in 2005 at the Australian Open, where he lost in the first round to Marat Safin.
Top 100
Djokovic was the first to break into the top 100, in July 2005, with Murray making the jump in October of the same year.
First titles
Murray was ahead of his rival in this one, winning his first ATP World Tour title in San Jose in February 2006, beating Lleyton Hewitt in the final. Djokovic followed in Amersfoort in Holland in July of the same year, defeating Chile's Nicolas Massu.
Top 10
Djokovic just pipped Murray to this milestone, reaching world number 10 on March 19, 2007, four weeks before the Scot.
Grand Slam breakthrough
Djokovic reached his first grand slam final at the US Open in 2007, losing to Roger Federer, and won his maiden title next time out at the Australian Open in 2008. He has since added five more titles and this will be his 11th slam final. It took Murray until September 2012 to win his first slam, beating Djokovic in five sets at the US Open. He reached his first final in New York in 2008 and lost four finals before winning one. He lost to Djokovic in the Australian Open final in January 2013.
World No.1
Djokovic reached the top of the world rankings after winning his first Wimbledon title in 2011 and regained the number one position at the end of last season. Murray's best ranking so far is number two, which he reached in August 2009, and which he holds again.