Sky Sports looks back at how Andy Murray secured his maiden Grand Slam title
By Raz Mirza
Last Updated: 25/08/15 3:36pm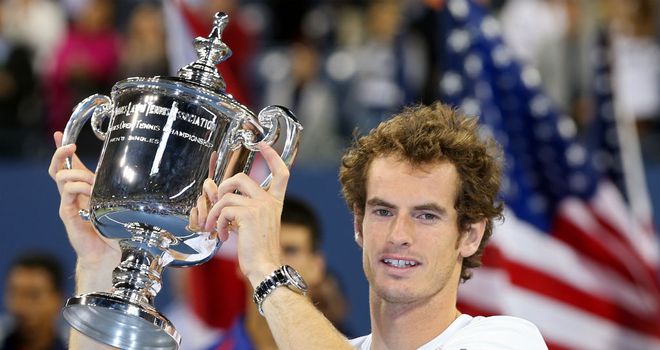 It could only be described as a fairytale in New York for Andy Murray when on September 10 2012 he became the first British man in 76 years to win a Grand Slam title.
A timely bathroom break along with true grit and determination helped the Scotsman fend off world No 1 Novak Djokovic in a deciding set shoot-out, as he emerged from the shadow of the great Fred Perry.
Murray had to do it the hard way though and it was always going to be the case after four failures in major finals, but this was worth its wait in gold.
After shedding a few tears after his Wimbledon final defeat to Roger Federer, he quickly picked himself up and dusted himself down to exact revenge on the Swiss ace to win Olympic gold on the same hallowed Centre Court turf just weeks later.
However, there was a burning ambition to finally end the grand slam hoodoo which had tormented every British player since the days of Mr Perry.
For many observers of the sport, the acrylic hard courts at Flushing Meadows proved Murray's best bet of claiming his first major title.
He had beaten Ukrainian Sergiy Stakhovsky in straight sets to lift the US Open junior title in 2004 and four years later he reached his first senior grand slam final but promptly received a tennis materclass at the hands of Federer.
The Dunblane-born player had continually been improving his physique, fitness and game and with eight-time grand slam champion and former world No 1 Ivan Lendl on board, Murray was heading towards his ultimate goal.
Solid start
He began his 2012 campaign at Flushing Meadows with a comprehensive straight-sets win, seeing off the challenge from Russia's Alex Bogomolov Jr.
The 6-2 6-4 6-1 victory was not as straightforward as it seemed on Arthur Ashe and afterwards Murray said: "I didn't serve well but I won in three sets and only lost seven games, so I must have done something well."
His second round opponent was the underrated Croatian Ivan Dodig, but Murray proved more fluent in his movement and ball-striking with a near-flawless display as he put on an exhibition for the night crowd.
World No 4 Murray completed a 6-2 6-1 6-3 success in just an hour and fifty minutes and he was far happier with his performance. "I moved better than I did in the first match and served better, and I was able to dictate more of the points because of that," he said. "I was much happier with the way I played."
Lopez battle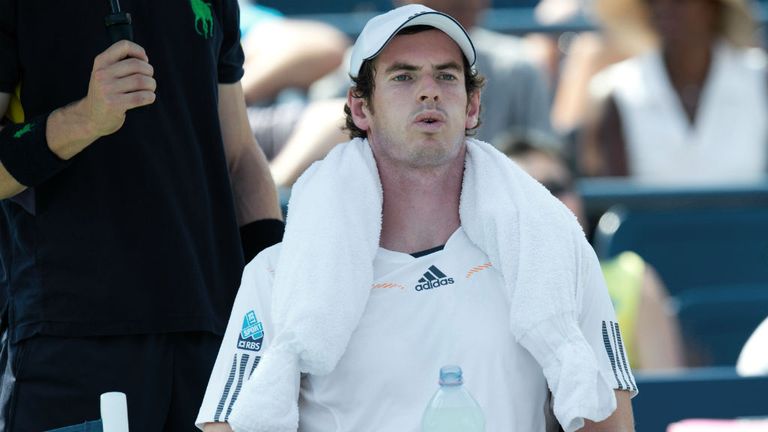 Next up was a tough four-set battle with Feliciano Lopez, with Murray having enjoyed a record of six wins in six meetings against his 30-year-old Spanish friend.
This time it proved to be far tougher and he was made to sweat for long periods of the clash as he went on to win three tie-breakers on Louis Armstrong Court.
In gruelling New York heat, the 25-year-old gave an unconvincing account of his title credentials, but still managed to come through 7-6 7-6 4-6 7-6 in the end.
"I was a couple of sets up and would have liked to have played better but it didn't happen the way I'd have liked," admitted the Scot. "But I played well in the tie break and that was the difference. I started serving better when it mattered but there's no doubt I can play better. I'll be back in the next match giving 100 per cent."
Raonic rumbled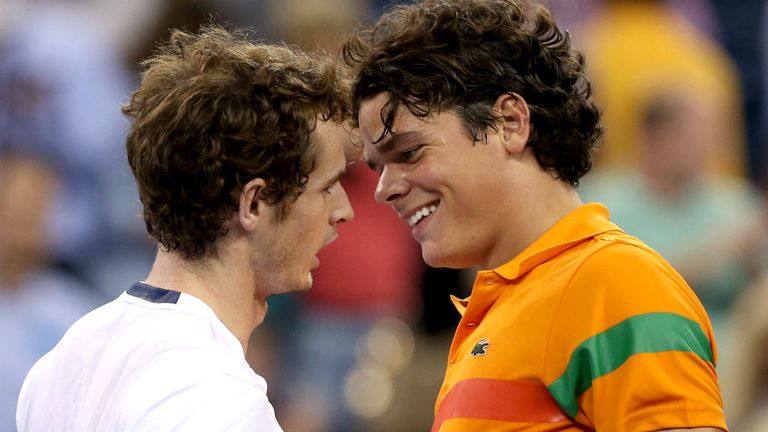 Murray had Sunday to recover from his excursions before an even harder looking prospect on paper against Canadian phenomenon Milos Raonic in the fourth round.
However, he muted Raonic's big serving and outclassed him throughout, humbling the world No 15 with 31 winners and just 12 unforced errors, 6-4 6-4 6-2 exactly two hours ahead of threatened thunderstorms in New York.
The 21-year-old was left in awe of the Scotsman's performance on the night, which had wowed the crowd and he told him so as they shook hands at the net. "He said, 'Sorry, I got lucky a few times.' I said, "Don't be sorry - it was simply amazing. Keep it up and you'll do well".
Cilic test
For an eighth consecutive time, Murray had reached the quarter-finals of a grand slam tournament where he was to meet Croatian Marin Cilic.
It proved to be another testing encounter as he remarkably fought his way back from a set and 5-1 down before winning in four to reach the semi-finals.
On another rain-affected day, his match was switched from Arthur Ashe to Louis Armstrong, which clearly shook up Murray more than his opponent.
Indeed, there seemed a very real danger that he would go out, but he turned the tide in his favour with an irresistible display of attacking tennis.
The quicker surface of Louis Armstrong had hampered Murray from the start, but after saving a set-point in the second set the third seed won 17 of the last 20 games, as well as the tie-break to come through.
He eventually won 3-6 7-6 6-2 6-0 to set up a date against the world No 7 Tomas Berdych, who had stunned Roger Federer.
Victory also made sure that he had reached the last four of seven of the last eight Grand Slam tournaments.
Windy win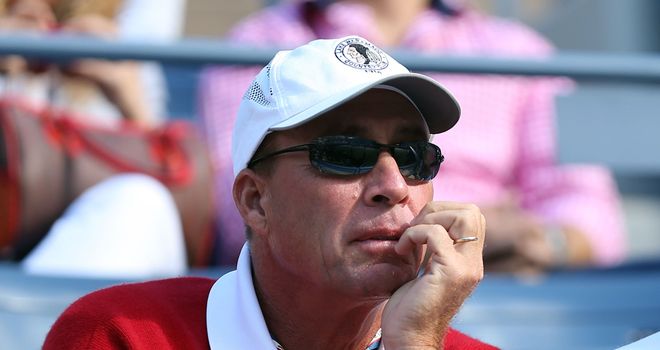 Murray went on to reach his second US Open final and his second consecutive Grand Slam final with a four-set victory over Berdych before Sir Sean Connery, Sir Alex Ferguson and his mother, Judy famously crashed the post-match press conference.
Despite the 6ft 6in Czech winning the opening set, his high-toss serve suffered badly in the swirling wind thereafter and it was Murray who stepped up his game and courtcraft to win a scrappy contest 5-7 6-2 6-1 7-6.
Those were some of the hardest conditions I've ever played in for sure and I come from Scotland so that is saying something.
Murray on victory against Berdych
At one point in the match, the British No 1 was halfway through his service action when one of the chairs the players sit on at the changeovers flew into the air and landed on the court.
"Those were some of the hardest conditions I've ever played in for sure," said Murray, "and I come from Scotland so that is saying something."
The final against the defending champion and tournament favourite Djokovic spilled over into a third Monday for the fifth year in succession and was to be Murray's fifth shot at a Grand Slam title.
"I've never made two Grand Slam finals in a year," Murray said, "so that's obviously a good sign that I'm playing better and still learning. "Whatever happens in the final, it's been a great year. But I want to make sure I give 110 per cent (because) I know how hard these opportunities are to come by."
Date with destiny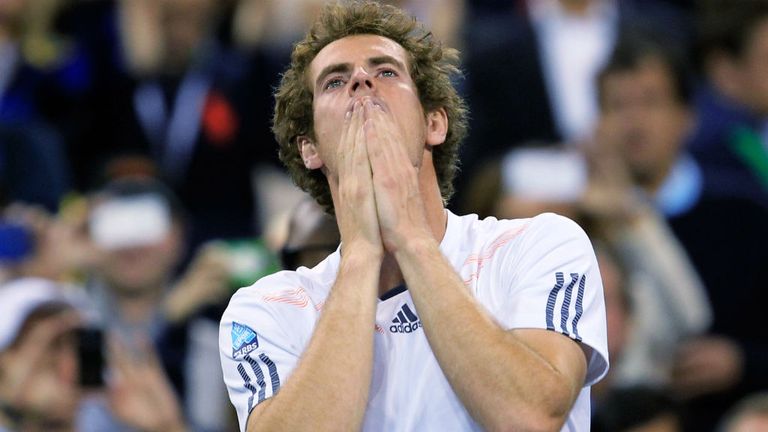 In the 287th slam tournament since a British man last won a major title, Murray was bidding to avoid becoming only the second man in history to lose his first five major finals - since Fred Stolle.
But the omens were good. Perry was the last British man to win a major, the 1936 US Open, and three years earlier broke his Grand Slam duck at the tournament ... on September 10.
The only other British winner of the US Open was Laurence Doherty in 1903 - after winning Olympic gold at the 1900 Paris Games, just as Murray did in London.
It was always going to be an almighty effort against the Serb who had the best hard-court record.
He had won more matches on all surfaces than anyone else in 2012, but the Scot went into the contest having won five of his past six matches against top ten players.
It turned out to be a roller-coaster ride, which witnessed a 54-shot rally, numerous 30-stroke exchanges, as well as a record-setting tie-breaker.
Murray dealt with the high winds much better early on and came through the longest tie-break in US Open final history after taking his chance at the sixth time of asking 12-10 in a marathon first set which lasted 87 minutes. The points tally ended 46-44.
He then cruised into a 4-0 lead in the second before Djokovic fought back to level up at 5-5. But Murray found another gear to seal the set 7-5.
The five-time major winner came out fighting in the third set and raced through it 6-2 and he soon took the match to a wobbling Murray to win the big points in the next set and take it 6-3 to restore parity.
Then perhaps came a career defining moment for Andy Murray as he decided to take time out for a bathroom break. He looked himself in the mirror and told himself he was not going to be beaten again. That this would be his destiny.
Out he came and thanks to an incredible show of resilience, he broke three times in the deciding set and the crowd on Arthur Ashe was brought to its feet when Djokovic smashed a final return long.
Murray had finally realised a dream in a wildly undulating, gripping and epic 7-6 7-5 2-6 3-6 6-2 victory that took four hours and 54 minutes.
"When I realised I had won, I was a little bit shocked, I was very relieved and I was very emotional," he said afterwards.