US Open: Andy Murray will be back after defeat, says Greg Rusedski
A burst of aggression would have eased Andy Murray's nerves against Stan Wawrinka, says Greg Rusedski.
Last Updated: 06/09/13 1:23pm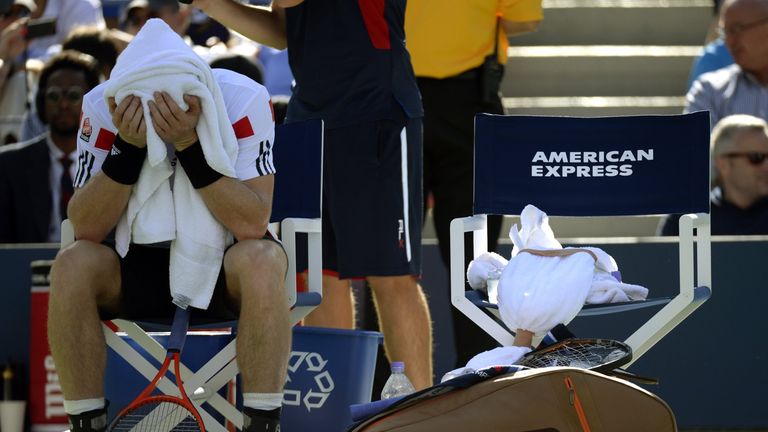 The reigning champion crashed out 6-4 6-3 6-2 to his Swiss challenger at Flushing Meadows and the Wimbledon winner later admitted he struggled to fire himself up for the tournament.
And Sky Sports expert Rusedski said that despite breaking his racket at the end of the first set, Murray could have shown more early aggression on court, which may have freed him up for the remainder of the contest.
"Murray never looked like he relaxed in the match," he told Sky Sports after the match.
"He didn't change his body language, he didn't change his performance, he didn't try anything different. He didn't change his strategy once.
"We saw him break his racket when he lost the first set and I thought 'good, he's going to get back in the match' but it was almost like he had this mentality of 'do I get angry or do I not get angry?'
"I would have liked to see him explode out there, get the emotion and get the tension out of his body. But he never said 'fine it's not working for me today I'm not doing what I like to do, I'm going to go for broke'."
Nerves
Annabel Croft, meanwhile, suggested nerves had got the better of the Wimbledon champion - and credited in-form Wawrinka for exploiting that situation.
"When his back is against the wall and there's drama on court Murray is usually able to find another gear - he almost likes that challenge - but today he was flat," she said.
"I honestly think the nerves never left him. He was never free, he seemed shackled - and when Andy is nervous his arms get tight, he loses power on his ground strokes and that gives Wawrinka so much more time on the ball to dictate play.
"Nerves also affect his movement, which wasn't quite there today.
"He'll be so disappointed with that performance because he looked listless and flat. It was a disappointing way not to defend your US Open title. But take nothing away from a spectacular performance from Stan Wawrinka."
Great champion
Rusedski, however, fully expects the Brit to return to top form in the future and challenge for a third Grand Slam title in 2014.
The Sky Sports expert pointed to Murray's emotional success in SW19 as a possible reason for his below-par display at Flushing Meadows and reckons he may not be completely free from the back problem which kept him out of the French Open earlier this year.
"What was interesting to me was that vest he was wearing - we've seen him wear it throughout the tournament, even with humid conditions, so I'm questioning how that back is," said Rusedski. "Is it really recovered since Wimbledon and when he had to pull out of the French Open?
"I have a question mark over how he's feeling physically.
"He said after he won Wimbledon he took two weeks off and he couldn't find the motivation to get back in the gym.
"Let's be honest, what he did at Wimbledon hadn't been done in 77 years and all of a sudden the media spotlight and attention was on him. So his preparation was probably not ideal for this championship.
"But Murray's a great champion, he's won two majors and I expect him to bounce back and do great things."
Threat
And Rusedski is also convinced Wawrinka has the capability to cause Novak Djokovic problems in the semi-finals, too.
The Swiss lost in five sets to the Serbian at the Australian Open at the start of the season but Rusedski reckons Wawrinka is buoyed by his current form.
"He's going to be a real threat to Djokovic," said Rusedski.
"He was unlucky not to beat Djokovic in Australia and he played better today than he did then.
"Don't write this guy off - that is going to be a tremendous semi-final and Djokovic is going to have to be at his best if he's going to progress."