Sky Sports looks at what options Andy Murray has after splitting with coach Ivan Lendl
Raz Mirza looks at whether Andy Murray will hire a new 'supercoach' or go it alone in 2014.
By Razwan Mirza - Tweet me: @RazMirza
Last Updated: 21/03/14 12:53pm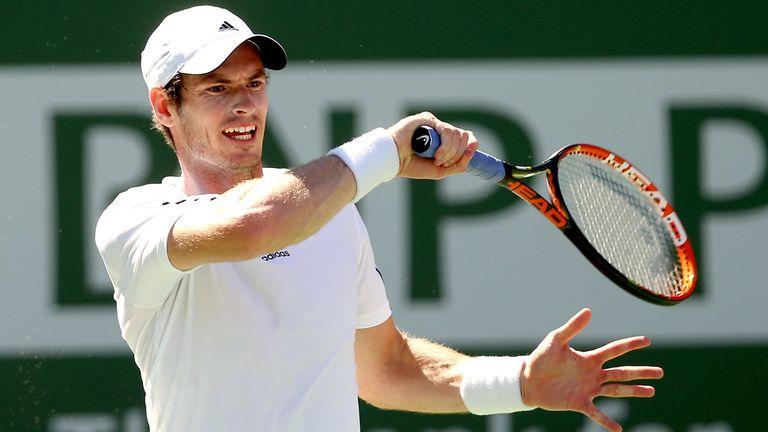 With Lendl, Murray won Olympic gold in London in 2012 and the US Open title later the same year. In 2013 he became the first British man to triumph at Wimbledon in 77 years.
The pair struck a chord as soon as they agreed to work together in December 2011. Their records were uncannily similar, with the Scot 0-4 in Grand Slam finals. The only one other man in the Open era to have lost his first four major finals was Czech-born Lendl.
He went on to win eight Grand Slams, spending 270 weeks as World No 1 before retiring in 1994 at the age of 34.
Murray has so far won two slams, but he is playing in a different era alongside the likes of 17-time Grand Slam champion Roger Federer, World No 1 Rafael Nadal and six-time major winner Novak Djokovic. The game now revolves around power, speed and agility around the court.
Leon Smith, Mark Petchey, Brad Gilbert, Miles Maclagan and Alex Corretja had all sat in Murray's corner, but linking up with Lendl was a shrewd move. None of his previous coaches gave him the belief, guidance and 'X-factor' which Lendl provided, despite his lack of coaching experience.
Lendl wasn't at every ATP Tour event Murray took part in during their time together, but made his contribution count during the majors, helping develop his game in pieces. Lendl played a large part in the life-changing events of the past year, notably when Murray became a champion at SW19.
Murray has previously stated that his future goal is to carry on winning major titles rather than becoming the top ranked player in the world.
However, in recent months the Dunblane-born player has backtracked on his words and now has ambitions of reaching the top of the tree.
It won't be easy for him though, having slipped to his current world ranking of sixth. But with a desire to land top spot and Lendl having departed his camp, his career has reached the point where the next few years will define him as either a 'great' player or a 'legend' of the game.
Steady start
Murray has made a steady start to the season considering the fact he has been returning from back surgery.
He reached the quarter-finals of the Australian Open in January where he lost to Roger Federer, and suffered a surprise defeat to Canada's Milos Raonic in the last-16 of the ATP BNP Paribas Masters event in Indian Wells earlier this month.
The 26-year-old will be defending his Miami title next week before leading Britain in the quarter-finals of the Davis Cup next month against Italy.
He still has assistant coach Dani Vallverdu backed up by his physio and fitness support team to help him, but during the big points in the big games when Murray puts his head up to look to his corner, there won't be the calming face of Lendl to guide him through it anymore.
It wasn't as if Lendl was an emotional man. Indeed, he would spend most of his time courtside looking on impassively from his seat because he knew all the preparation had been done beforehand.
There was only one man who could change the outcome of a point, a game or a match and that was Andy Murray.
After two years under the guidance of Lendl, will Murray keep to the growing fashion of hiring another 'supercoach' or will he decide to rely on the people who have stood by him over the past few years and see where that takes him?
World class coach
One thing is for sure, if he has serious ambitions of reaching the top of the world rankings, there is no doubt that he won't be able to achieve it without the experience of another world class coach.
So who is out there? Well, Boris Becker has been hired to work alongside Djokovic while Stefan Edberg has already helped Federer prove the doubters wrong.
Michael Chang is working with Kei Nishikori, Goran Ivanisevic has joined forces with Marin Cilic and Sergei Bruguera is now coaching Richard Gasquet.
Probably the biggest change in a player over the past 18 months has seen Stanislas Wawrinka become the 'real deal' after winning the Australian Open crown earlier this year, helped by the guidance of former World No 2 Magnus Norman.
If Murray were to hire another former Grand Slam winner, the likes of Jimmy Connors, who coached Maria Sharapova for one match before being fired, or even dare I say it, John McEnroe could be in the picture.
It's unlikely the seven-time Grand Slam champion will relinquish his role as a successful television commentator and analyst in any case.
Andre Agassi recently admitted his life was too busy to contemplate taking up a coaching role.
One man who Murray could turn to on a short-term basis is 14-time major winner Pete Sampras.
Why not? It could be a match made in heaven. The American was seen as a very aloof type of character, as is Murray. Both have been criticised for a lack of emotion on and off the court. The Scot has since won over many sceptics, but is still regarded my some as a man with 'no personality'.
It might be a perfect role for 42-year-old Sampras, who retired 12 years ago after winning the US Open.
However, with a happy family life, Sampras has stated that he would not be going down the coaching road, saying at the Australian Open: "No, no, no. It's not for me. I've been asked by a couple guys. But the travel, to go on the road, do all that they're doing is not something that I'm interested in."
Maybe Andy Murray could change his mind ....
What do you think Andy Murray should do next? And if were to hire a new 'superocoach', who do you think would be the ideal candidate. Send in your views below...