Rafa Nadal v Andy Murray: Rome Masters quarter-final a classic, says Leif Shiras
Rafa Nadal's dramatic Rome win over Andy Murray will live long in the memory, says Leif Shiras.
Last Updated: 17/05/14 11:29am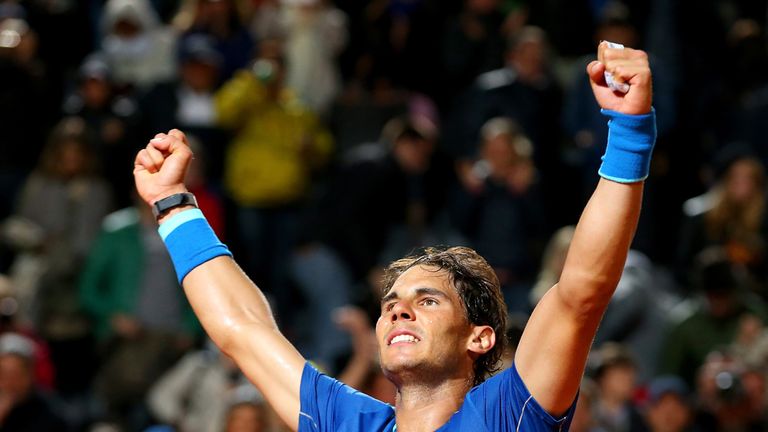 The British Wimbledon champion stormed through the first set but King of the Clay Nadal hit back in the second before edging a nip-and-tuck third to win 1-6, 6-3, 7-5.
Whilst the contest amounted to yet another defeat at the hands of Nadal for Murray - the Olympic gold medal winner has now lost 14 of his 19 meetings with the Spaniard and all five on clay - Shiras told Sky Sports the pair put on a stunning display of tennis and Murray can take plenty of positives from his performance.
"I don't think we'll forget that one," he said. "That one is going to stick in your mind for a long, long time.
"It wasn't only how well Rafa played to recover from the deficit but how well Andy played to be able to lead. It was really sensational tennis from both guys.
"There were so many swings in momentum. Early in the second set Rafa was down break point and came up with an ace to get back on even turns and ultimately swings that set his way, but then Murray was playing brilliantly in the third before Rafa comes up with some great tennis.
"There were so many dramatic shifts in this match - and early in the third set we saw one of the greatest points of the year!
"Murray had his foot on the pedal, accelerating through the whole match but any time he let off just a bit, Nadal was on him. Nadal plays with such intensity and passion on every point that if you let off he is on top of you.
"But the aggression Murray showed in the first and third sets is going to bode well for him moving forward. This was a match he was so close to winning."
Nadal will now face Grigor Dimitrov, with Milos Raonic meeting Novak Djokovic in the other semi - both of which you can see live on Sky Sports on Saturday.
However, with the French Open on the horizon, Shiras reckons the eight-time Roland Garros champion is in ominous form ahead of this season's clay court Grand Slam.
"Nadal seemed a little fatigued and nervous in that opening set but he somehow found that deep reserve of energy," said Shiras.
"He's brilliant to watch."