Nadal keeps his focus
Rafael Nadal has refused to start thinking about a third Wimbledon title following his record-breaking seventh French Open victory.
Last Updated: 24/06/12 1:49pm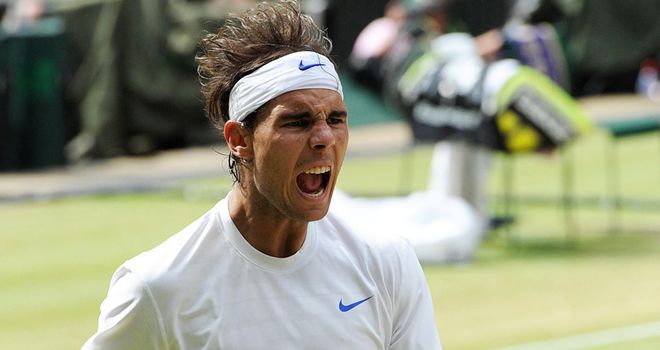 Rafael Nadal has refused to start thinking about a third Wimbledon title following his record-breaking seventh French Open victory.
The Spanish ace goes into the third grand slam of the year on a high after defeating Novak Djokovic in the final at Roland Garros, a victory that took him past Bjorn Borg's record of six victories on the Paris clay.
But he refuses to be complacent ahead of Wimbledon, with the likes of Djokovic, Roger Federer and Andy Murray also set to challenge at SW19.
The world number two said: "I'm very happy the way things went the last couple of months and really since the beginning of the season.
"But thinking about winning another title here at Wimbledon is arrogant and crazy.
"That's something I cannot think about. I can just think about practice and how to keep preparing my game, so I arrive on Tuesday with the right conditions to be competitive and win the first match.
"That's the goal. I try my best in every practice and every hour on grass helps me."
Toppling
After toppling Federer from his perch as the sport's pre-eminent force, Nadal lost the number one spot to Djokovic during the Serb's incredible run last year.
The 26-year-old could reclaim pole position in the rankings if he wins Wimbledon and Djokovic bows out earlier in the tournament.
But Nadal, who plays Brazil's Thomaz Bellucci in the first round, knows there is good chance Djokovic will be standing between him and the Wimbledon crown in two weeks' time.
And he relishes the prospect of extending his rivalry with Djokovic, who he lost to in three successive grand slam finals, including the Wimbledon showpiece last year, before finally beating the Serb at Roland Garros.
"It's great. For me I feel very lucky to be part of these rivalries," he said.
"I think is something that brings special motivation to the game and motivates me to keep improving my tennis.
"Because if you are not able to improve your level you are dead in this very competitive world of tennis."
Few problems
In the past Nadal, who tipped compatriot David Ferrer as an outsider for the title, has had few problems adapting to grass so quickly after the claycourt season.
He won the French Open and Wimbledon back to back in 2008 and 2010, but even so, he believes there should be a longer grasscourt season to cut down on the number of more physically demanding hardcourt events.
"I always say it is great to play more and more on clay and grass because those surfaces are historic in the world of tennis," he added.
"In the past, most of the tournaments were on clay and grass. In my opinion for the body the worst surface to play is the hard court.
"I will never have anything against playing more weeks on grass or clay, because I think is easier for the physical performance, for the injuries of the players."