Roger just champion
Roger Federer played his best tennis when it counted to outclass Andy Murray, says Mark Petchey.
Last Updated: 09/07/12 1:55pm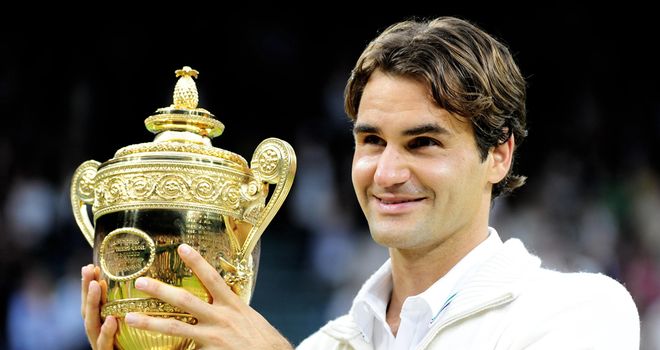 Roger Federer produced his best tennis when it counted to outclass Andy Murray and earn a seventh Wimbledon title, according to Mark Petchey.
Federer, 30, recovered from a set down to claim his 17th Grand Slam title with a 4-6 7-5 6-3 6-4 victory on Centre Court and dash home hopes of a first British men's singles winner since 1936. Read our report here.
Murray broke his opponent in his first service game but Federer - now back as World No 1 - rallied strongly and Petchey told Sky Sports News HD that the better player won on the day.
"There were a couple of tight points but you expect a couple of tight points in a Wimbledon final - it's not going to be a runaway train when these two meet," he reflected.
"Once Roger got himself out of a little bit of a hole in the second set and managed to break with some classic volleying it was always, I felt, going to be a long road back for Andy.
"Even though Roger is the older man, I actually thought that the longer it went today the more it was going to benefit Roger because Andy's been on court [during the tournament] for four hours longer - plus there's the emotional strain of trying to win your first ever Grand Slam title against a guy that's already won 16 and six times here. I always thought that was going to be a major factor."
Crucial
Murray - searching for his first Grand Slam title in his fourth final appearance and first at Wimbledon - stung Federer with an early break en route to the first set.
But he missed opportunities at 2-2 and 4-4 in the second to earn another crucial break, offering Federer a route back into the match.
"I thought the first set was absolutely crucial to give Andy any chance of winning," reflected Petchey. "Had he lost the opening set then it could have been a runaway train for Roger.
"But the fact was he came out and got up the early break; Roger then got back into it and it was a bit of a tussle.
"Andy did great to hang onto his serve at 4-3; he obviously got the break and the right time and served it out and then you thought 'yeah, ok, here we go'.
"But it was one of those matches today where I really felt that Andy had to do it in straight sets. He had some chances in the second set but Roger's first serve was amazing again.
"He got almost 70 per cent of his first serves in. When he hits it the way he does with the width he hits and the pace - I know it's not the fastest - the placement he gets [is superb].
"Even for someone as great as Andy on the returns, that serve is going to keep you quiet for long stretches of the match."
Aggressive
The momentum was with Federer when the Centre Court roof was closed due to rain, causing a 39-minute delay, and on the resumption it stayed with the Swiss whose ball-timing and striking seemed to improve in the enclosed arena.
"Federer's the more aggressive player, he hit more winners today than Andy out there today - that was probably always going to be the case and it was the best volleying display that we've seen from Roger throughout the whole of the tournament," said Petchey.
"That's what separates the great champions - they are able to produce their best when it counts. He knew he had to do that today against a guy who passes as well as Andy does, so all credit to him.
"He played so well in his semi-final (against Novak Djokovic) that he had the basis for a performance like he had today. Roger looks like he's going to go for another 10 years when he's moving the way he has today!"
He added: "Andy has had an amazing tournament; he's beaten all of the players he should have beaten to get to this final. He's been up a set and tantalisingly close to being 2-0 up. Had he got that it might have been a different story."