Murray on the march
Andy Murray will go into the Shanghai Masters final against Novak Djokovic as favourite, says Leif Shiras.
Last Updated: 13/10/12 5:50pm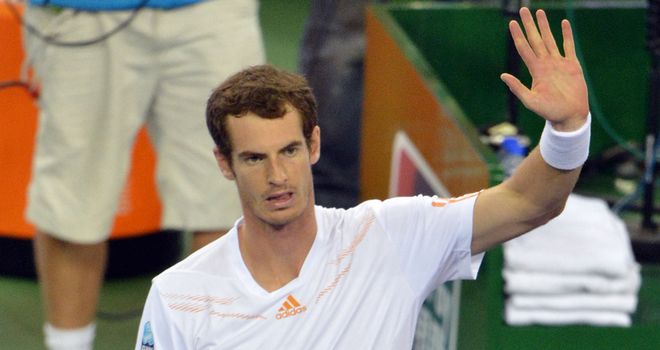 Andy Murray will go into the Shanghai Masters final against Novak Djokovic as favourite to win a third consecutive title in China, according to Sky Sports expert Leif Shiras.
Murray powered past Roger Federer 6-4 6-4 in the semi-final on Saturday to set up a rematch of the US Open final on Sunday.
It was a dominant performance from the Brit, who took full advantage of Federer's uncharacteristic errors, and Shiras believes Murray is in a strong position to repeat his US Open final victory over Djokovic.
"I think that Novak has fewer options than Murray. Murray has so many more talents in terms of his ability to play with spin and vary his game," he told Sky Sports.
"Novak has the baseline game that he counts on but he also is trying to come forward and do other things. This is a match-up of two players who are trying to play at a time of the season when everyone was saying this season doesn't mean anything. In fact it is.
"There is a lot on the line for both these guys. Murray wants to continue this fine run. Djokovic wants to finish his year at No.1.
"Federer didn't play well and credit Murray for doing a lot of good things to not allow him to play that gun-slinger mode. Murray looks great and he has a great shot to take home a third consecutive title here."
Errors
Federer made a high number of unforced errors and struggled particularly on his serve as Murray put the pressure on with heavy and accurate returns and ground strokes. Shiras believes Murray, who lost to Federer at Wimbledon but beat him in the Olympics, now has the measure of his rival.
And Shiras says it will take a huge effort for Federer to regain his hold over his younger rival.
"It is something that he will have to come to terms with because Andy Murray will only get better and he is going to be around a long time," he said. "If Federer wants to be in the mix of the top two, he is going to have to learn how to deal with Andy Murray.
"Federer struggled in the unforced errors and he did not serve particularly well. In one game he had three consecutive double faults and surrendered his serve. You just thought the writing was on the wall when you saw from arguable the greatest of all time."