Andy Murray can win ATP World Tour Finals says Boris Becker
Boris Becker says Andy Murray can win the World Tour Finals despite being in 'the group of death'.
Last Updated: 05/11/12 10:16am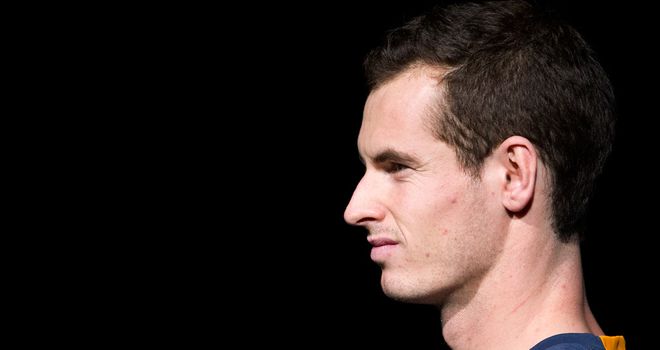 Murray, who has failed to reach the final of the season-ending Championships in five attempts, lines up in Group A alongside World No 1 Novak Djokovic, Tomas Berdych and Jo-Wilfried Tsonga.
The 25-year-old US Open and Olympic champion begins his campaign on Monday against Berdych, who took him to four sets in the semi-finals at Flushing Meadows.
Nevertheless, Becker told Sky Sports News that Murray will not be daunted and can cap an historic season by claiming the title at the O2.
"He comes into the Barclays Finals with the US Open crown under his belt, the Olympic gold medal hanging around his neck so obviously he feels he's ready for it," said Becker.
"It's his first time in front of the British public since he became a Grand Slam champion, so he should be feeling very confident.
"I call [his group] 'the group of death' because it's a lot stronger than the other one. It's the eight best players in the world [at the Finals] so there aren't any easy matches.
"I just feel that from the reputation that these guys have - especially on an indoor court - that Murray will find his group much tougher than the other one."
Confidence
Murray claimed Britain's first Grand Slam title for 76 years in September by beating Djokovic in five sets, before the Serb gained a measure of revenge by seeing off the Scot in an epic final at the Shanghai Masters.
Becker believes that the competition between the two will turn into one of tennis' great rivalries - although he refuses to rule out the possibility of Wimbledon champion Roger Federer adding to his 17 Grand Slams.
"That's what it looks like," he said. "They know each other from their junior days. Djokovic was the first one to pick it up last year with Grand Slam wins, beating Murray in one of the finals.
"But ever since this summer when Murray finally stepped up to the plate and won his first Grand Slam, I feel that Murray has just improved mostly with his mental attitude; his confidence is bigger.
"Some of the matches that they've had lately, especially the final of the Shanghai Masters, just goes to show that these two are in for the long haul.
"They know each other so well. They are both counter-punchers who wait for the opponent to make a mistake and eventually come through. They are so much alike that it's very difficult to pick a winner when they play."
Wrong
Former World No 1 Federer is drawn in Group B alongside Paris Masters champion David Ferrer, Juan Martin del Potro and Janko Tipsarevic.
"Funnily enough, people are writing Federer off already," said Becker. "They say he is too old for it now and he's not good any more. Well, I find that very, very wrong.
"His group is - in my eyes - on a pretty fast indoor court, easier. There are more clay-court specialists in the group and I would be very surprised if Roger didn't make the semi-final.
"I call Del Potro my dark horse. He was the winner of consecutive tournaments in Vienna and Basel, beating Federer in his home town. I would expect him to go through to the semi-final, too, and possibly go all the way."
Don't miss the 2012 ATP World Tour Finals, live from the O2, starting at 12pm on Monday Sky Sports 1 HD.