Greg Rusedski hopes Andy Murray and Novak Djokovic meet in the final at the O2
Greg Rusedski hopes Andy Murray and Novak Djokovic meet in the O2 final after their thrilling clash.
Last Updated: 07/11/12 5:58pm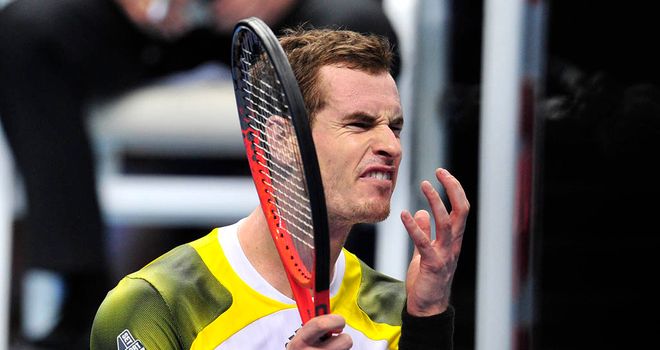 World number one Djokovic edged the US Open winner in a three-set thriller 4-6, 6-3,7-5 and Rusedski told Sky Sports the Serbian showed why he is ranked as the best player on the planet.
"The difference between Andy and Novak at the moment is Novak can weather that storm a little better," he said.
"Andy was on fire in the first set; the way he played was sensational and Novak really couldn't do much. In the first three Murray service games, Novak didn't win a point.
"But in the second set Djokovic pounced. Murray had a little dip and the momentum changed.
"Novak was going after his second serve today which I thought was impressive. He was hitting 112mph serves, whereas usually they are more 90-95mph and, on top of that, he started reading the return of serve better as well. That was one of the keys.
"That display was impressive from the world number one. Let's hope they meet again in the final, though. Murray still has a great chance to qualify for the semi-finals."
Positives
Boris Becker also pointed to the consistency of Djokovic as decisive and, although he picked out several positives for Murray to take confidence from, he suggested the Briton's coach, Ivan Lendl, will highlight several lapses in concentration.
"Djokovic was the more consistent throughout the whole match and that's the difference between world ranking one and world ranking three," said Becker.
"Andy played a spectacular first set but then dropped his level of intensity a little and was a bit one dimensional, playing too much on Djokovic's backhand, which is the best stroke the Serb has.
"Once he was down break in the third set Murray took a few more chances, went for the forehand side a bit more and in the end it was another nail-biter - but what do we expect?
"Lendl will tell Murray it wasn't good enough. He will be brutally honest. He will say you played really well but let a few things bother you in the second set and early in the third set. Djokovic could have been up a double break in the third and the match could have been over much, much sooner.
"But there are positives for Murray to take, as well. He started much better and played extremely well for the first set. But to be world number one he has to carry it for more than one set."
On the other side of the court to Murray, an evolution in Djokovic's style has been key to his success, said Annabel Croft.
"We talked so much about improvement in Andy's game but perhaps we haven't talked enough about the fact Novak is coming forward so many times more in his matches now," she said.
"He made 30 sorties to the net in this match and won 22 of them. The key stat is he won 11 points with 12 charges to the net in the final set."