Aus Open classics
With the Australian Open closing in, Andy Schooler recalls some of his favourite Melbourne matches.
Last Updated: 07/01/13 1:21pm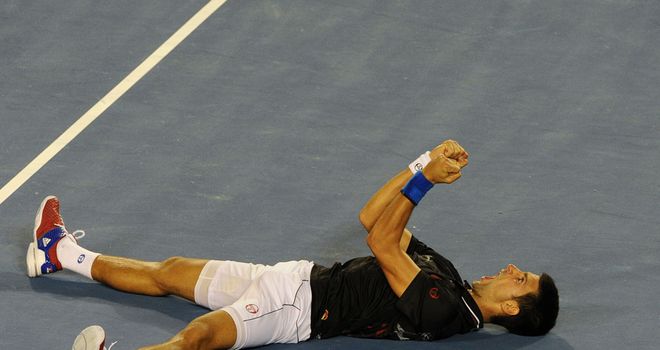 Last year's marathon final between Novak Djokovic and Rafael Nadal was just one of several classic matches contested at the Australian Open over the years.
Here, in no particular order, Andy Schooler picks out some of the most memorable battles from his time following the sport.
Rafael Nadal beat Roger Federer 7-5 3-6 7-6 3-6 6-2, final, 2009
This was a truly special match, one which could well go down in history as the moment when the balance of power swung between these two modern greats. It came just six months after the pair's Wimbledon classic, a contest described at the time by many as the sport's greatest ever.
For four sets in Melbourne, the duo arguably surpassed what had gone before on the other side of the globe, the true bounce of the hardcourt surface allowing for some even better rallies. In particular some of the angles Nadal found having been pulled out of court will live long in the memory of those who watched. Sadly the fifth set could not provide the drama which had been seen in the gathering gloom at Wimbledon, but if there's no doubt this still deserves classic status.
Pete Sampras beat Jim Courier 6-7 6-7 6-3 6-4 6-3, quarter-final, 1995
When people say tennis matches are emotional, it's usually an exaggeration. Not in this case. It's best known for Sampras breaking down in tears in the early stages of the fifth set. Deep into an classic battle, Having battled back from two sets down and also a break down in the fourth, a fan told Sampras to "do it for your coach". It was a reference to Tim Gullikson who had collapsed in the run-up to the tournament and been diagnosed with a brain tumour.
The tears duly flowed from the great champion, with his friend Courier even offering to stop the match, saying across the net: "We can do this tomorrow, you know." However, Sampras battled on to claim a remarkable victory. The tears elevate this to a legendary match, but the tennis offered up by the American duo was also outstanding.
Courier started superbly and despite Sampras serving well, his opponent took the first two sets. But Sampras was able to show all his fighting qualities to hit back, pulling away in the closing stages, the match ending, after all the drama, at 1.09am.
Andy Roddick beat Younes El Aynaoui 4-6 7-6 4-6 6-4 21-19, quarter-final, 2003
Back in 2003, 40 games in the final set counted as an epic. After the 2010 Isner-Mahut match at Wimbledon, it may seem a sprint, but at the time I can assure you this one looked like it would never end. Serve held sway for long periods and when the final set got to 10-10, you sensed something special was happening.
At that stage 30 games in a row had gone to the server but bizarrely back-to-back breaks followed - Roddick failing to serve out after breaking his Moroccan foe. There was plenty more time left in the match but Roddick eventually prevailed with the clock well past midnight. It was a contest in which the American had shown real fight with many feeling the match was the platform for Roddick's surge to the world number one spot later in the year.
Jennifer Capriati beat Martina Hingis 4-6 7-6 6-2, final, 2002
Much has been made about what will happen if World Cup footballers play in temperatures above 40C in Qatar in 2022. For some idea, simply watch a DVD of this match, one played in peak temperature of 46C in Melbourne. The brutal conditions certainly played their part, but also ensured this match will be remembered for years to come.
Perhaps the tennis was not of the highest quality - how could it be in that heat? - but few matches will provide such a story arc, such drama. Having played some impressive stuff in the early stages, Hingis looked poised for victory when she led by a set and 4-0 but by then the heat was beginning to take its toll. Defending champion Capriati, sensing her opportunity, took full advantage and launched her fightback. Still, Hingis had more chances in the second-set tie-break only to blow four championship points as Capriati forced a decider.
After that breaker the American only had to stay on her feet to win the contest as Hingis was barely able to move around the court and was often found sitting down in the shade between points. To me, Hingis' post-match quotes provide clarity as to how tough this one was and they are particularly surprising given her reputation as a fighter. "I just couldn't move anymore. I had goosebumps all over my body. Near the end I just wanted it over. I didn't care anymore." Watch it again - you simply have to feel for her.
Marat Safin beat Roger Federer 5-7 6-4 5-7 7-6 9-7, semi-final, 2005
A thriller of the highest order, one which saw the mercurial Safin at a level not seen often enough during his career. The highlight of the Russian's career will probably be remembered as his 2000 demolition of Pete Sampras in the US Open final, but many will rank this display higher.
While Sampras was past his best five years before, when this match began Federer was in his prime. Yet Safin was in great form and with his sledgehammer serve and forehand in fine working order he was able to stay with the Swiss great throughout.
Things got tricky in the fourth-set tie-break when Federer forged his way to match point, but Safin survived to force a decider. Once there, Federer looked fatigued but showed the heart of a champion and proved he could dig deep when required. In the face of adversity he saved match points in four different games in the final set (six in total) before finally succumbing in a true classic.

Andre Agassi beat Pete Sampras 6-4 3-6 6-7 7-6 6-1, semi-final, 2000
A list of Australian Open classics would feel rather odd without Agassi, a player who would lift the trophy no fewer than four times during his stellar career. In terms of a single match display, this was arguably Agassi's greatest Melbourne night as he became the first player since Rod Laver in 1969 to reach four consecutive Grand Slam finals.
Tennis' comeback kid managed to fend off the rival of his generation despite 'Pistol Pete' firing down 37 aces in the match. Unperturbed after losing the third-set tie-break to love, Agassi refused to bend and got his rewards at the start of the deciding set winning a spectacular point with a diving volley which Sampras later admitted proved crucial. Agassi had wrested control and didn't let up, punishing a tiring Sampras during the remainder of the match.
Serena Williams beat Kim Clijsters 4-6 6-3 7-5, semi-final, 2003
Like Agassi, five-time champion Williams holds a prominent position at the Australian Open's top table. However, when she arrived in Melbourne nine years ago she had yet to lift the trophy. Yet the pressure was on - win this time and she would complete what was being dubbed the 'Serena Slam' as she already held the three other Grand Slam titles.
When she fell 5-1 down in the final set of this contest, that slice of history looked to have eluded the American. But as we now know, only the foolish write off Serena. Saving two match points at 5-3, Williams produced one of the tournament's greatest fightbacks to keep the dream alive.
Clijsters did not win another game, losing six on the spin in total. "I've always been a fighter," said Williams afterwards. "I don't know where it comes from. It's innate." She went on to win the final and write her name in the history books. These days, Serena's fighting spirit is world renowned. That reputation was built in this match.
Boris Becker beat Omar Camporese 7-6 7-6 0-6 4-6 14-12, 3rd rd, 1991
A ridiculous rollercoaster of a match which title fancy Becker had looked set to win when he eked out a two-set advantage. However, his little-known opponent stormed back as the German wilted in the intense Melbourne heat and when Camporese won the third and fourth sets comfortably, there looked only one winner.
However, Becker found new resolve in an epic final set and was somehow able to dig deep enough to prevail. Victory was sealed with the match into its sixth hour - it was the tournament's longest for 18 years. Perhaps more remarkable was that Becker was able to recover and a week later he was lifting the trophy aloft, becoming world number one for the first time in his career in the process.
Novak Djokovic beat Andy Murray 6-3 3-6 6-7 6-1 7-5, semi-final, 2012
A match which saw Murray's Grand Slam dreams dashed but arguably gave him the confidence to push on to the success he would enjoy later in the season. The British star led by two sets to one and also had three break points at 5-5 in the decider before losing a cracking contest by the narrowest of margins after almost five hours on court.
Djokovic went on to describe his performance as one of the best of his career but it is Murray's comment which, with hindsight, tell a significant story. "I think that gap (to Djokovic, Federer and Nadal), I feel tonight I closed it," he said. "My job over the next two or three months is to surpass him (Djokovic) and the guys in front of me." It might have taken a little longer but Murray did that job, beating Djokovic en route to both Olympic gold and US Open glory.
Novak Djokovic beat Rafael Nadal 5-7 6-4 6-2 6-7 7-5, final, 2012
Having been treated to a classic semi-final, the Melbourne Park fans had no right to expect a final of the same quality. But, fortunately for them, that wasn't the case. This turned out to be the longest Grand Slam final in history, the match lasting five hours and 53 minutes.
Brutal hitting, incredible retrieving and utter defiance from both players - Nadal when staring down the barrel in the fourth, Djokovic when he trailed by a break in the decider - was on show. Nadal is probably still reflecting on an easy backhand he missed when leading 4-2 in the final set - it was a turning point if ever there was one.
With the clock well past 2am local time and the players standing at the presentation ceremony, chairs were brought onto court for the two warriors. It would have been apt if they have been carried aloft from the Rod Laver Arena upon them.