Murray finals
We look back on Andy Murray's previous efforts in Grand Slam finals after his win over Roger Federer.
Last Updated: 25/01/13 2:08pm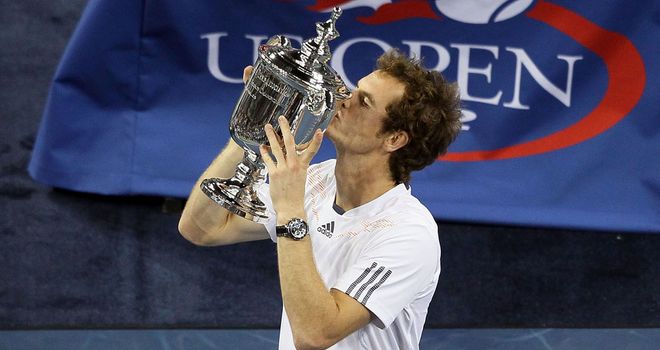 Andy Murray's five-set win over Roger Federer at the Australian Open has seen the British No 1 reach the sixth Grand Slam final of his career.
He needed four failed attempts before finally tasting glory in the US Open last year against Novak Djokovic, who he will face again in the Melbourne showdown.
Here, we take a look back on the previous major finals he has been involved in.
US Open, 2008: Roger Federer bt Andy Murray 6-2 7-5 6-2
Murray's grand slam breakthrough came at Flushing Meadows as he survived a two-day, rain-affected thriller to defeat Rafael Nadal in the semi-finals. The odds were firmly against him as he returned the next day to face Federer, the four-time defending champion, and Federer's dominance in New York never looked in any real danger as experience won the day.
Australian Open, 2010: Federer bt Murray 6-3 6-4 7-6
It took Murray another 18 months to reach a second final, and again it was Federer on the other side of the net. This match was certainly closer but once more Federer proved too strong, although Murray should have extended the match at least to four sets. The loss hit the British player a lot harder than his first final loss, and he broke down in his on-court interview, saying: "I can cry like Roger, it's just a shame I can't play like him."
Australian Open, 2011: Djokovic bt Murray 6-4 6-2 6-3
Twelve months later Murray was back in the final in Melbourne, and for the first time it was not Federer he was facing. However, Djokovic was at the start of a season in which he would win three Grand Slam titles and establish himself as the world's best player. The Serbian was far too strong but Murray put in a lacklustre performance and was badly affected by the loss, failing to win a match for the next two and a half months.
Wimbledon, 2012: Federer bt Murray 4-6 7-5 6-3 6-4
Murray ended a 74-year wait for British tennis by reaching the men's singles final and for the first time in a Grand Slam final he managed to produce his best tennis. He won the first set and threatened to take a two-set lead but Federer turned things round and, helped by the shutting of the roof, won a seventh Wimbledon title. Murray struggled to speak through tears in his post-match interview and was loudly cheered as he said: "I'm getting closer." Four weeks later he thrashed Federer to win Olympic gold on Centre Court.
US Open, 2012: Murray bt Djokovic 7-6 7-5 2-6 3-6 6-2
Four years after he first reached a major final and at his fifth attempt, Murray finally became a champion. It was fitting that it should happen in such dramatic circumstances after his tortuous journey. The Scot edged the first two sets but Djokovic hit back to level and it seemed Murray might miss out again. But he seized his chance in the decider with Djokovic ailing physically and became Britain's first male Grand Slam singles champion since Fred Perry in 1936.