Novak Djokovic's Dubai win proves he's still raising the bar, says Barry Cowan
Novak Djokovic's win in Dubai shows he's improved since his incredible 2011 season, says Barry Cowan.
Last Updated: 02/03/13 7:15pm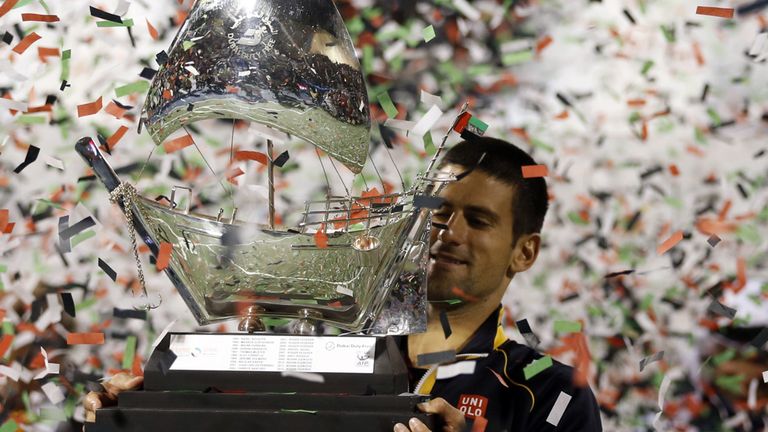 The World No 1 resisted a determined early challenge from Berdych before going on to increase his winning run to 18 matches, prompting comparisons with his incredible 2011 season when he compiled a 43-match unbeaten streak.
Australian Open champion Djokovic, who last lost a match in October, claimed the Dubai crown without dropping a set in the whole tournament but Cowan told Sky Sports that the 25-year-old certainly didn't have it all his own way in the final yet still managed to win.
"It was such a fantastic match and, again, a match that Djokovic wins," he reflected. "When you get to the real business end of a set you always get the feeling that he's going to come out on top.
"I think he's a better player than he was two years ago; he doesn't have to dig as deep in some of the matches as he had to a couple of years ago; he's supremely confident and when it really matters he steps up to the plate. There's no fear in his mind.
Strikes
"Both sets really hinged on the eighth game. They were long games and Djokovic was able to win them. It was almost reminiscent of Rafael Nadal in all of those long years when he was dominant on clay - you get those long games where he wears down his opponent and then strikes.
"The eighth game lasted nine minutes. It ebbed and flowed. Djokovic had chances to get the break and Berdych had chances too. Djokovic wasn't having it all his own way because of the great tennis that Berdych was playing in the opening eight games.
"But Djokovic kept knocking on the door and it was a massive moment when Berdych netted, not just because it handed the break to Djokovic and not only because Berdych missed the volley, but from that point Berdych really struggled when he came forward.
"Novak makes you really doubt yourself; he almost makes you go for a little bit more that you would want to. I think Berdych would have made that volley against 98 per cent of the world's top 100 but when you've got Djokovic at the other end of the court moving as well as he does - and it's a big point in a final - that seed of doubt is there."
Tough
Djokovic has not beaten Berdych in 13 of their last 14 meetings, prompting Cowan to question whether the Czech has it in him to overcome the best player in the world no matter the surface.
"The real concern for me if you look at the match today is that they are playing on a quick hardcourt - arguably the quickest we are going to have this year - and Berdych has been embroiled in a physical and mental battle and lost," said Cowan.
"What is it going to be like in Indian Wells and Miami when it's that much hotter? The humidity in Indian Wells can be tough. Djokovic is tough to hit winners against. Remember how long some of the Nadal-Djokovic rallies were in those two tournaments in 2011?
"If Berdych is struggling in Dubai, what's he going to be like in those two Masters events?"
Change
Third seed Berdych booked his place in the final by beating defending champion Roger Federer in the semi-finals, saving three match points en route to a 3-6 7-6 6-4 victory.
Federer has opted to play in Indian Wells but not Miami this year - a decision that, in Cowan's view, could force the Swiss to alter his plans dramatically should he be short of form.
"What he doesn't want to do is lose early in Indian Wells, feel undercooked and change his schedule and feel that he needs to play in Monte Carlo because he hasn't played enough matches.
"In Federer's mind he's resolved to take a couple of months off so that he is firing on all cylinders come Wimbledon and the American hardcourt season going into the US Open.
"Those two Grand Slams are his best chances now to win - it's so difficult for him at the Australian and French."
Watch live coverage of the Indian Wells Masters from 9pm on Sky Sports 4 HD on Saturday March 9.