Best Decisions in Sport: Have your say on Sky Sports' shortlist for tennis
We look at the best decision in tennis history as part of 'The 50 Best Decisions in Sport' series.
Last Updated: 12/08/13 10:03am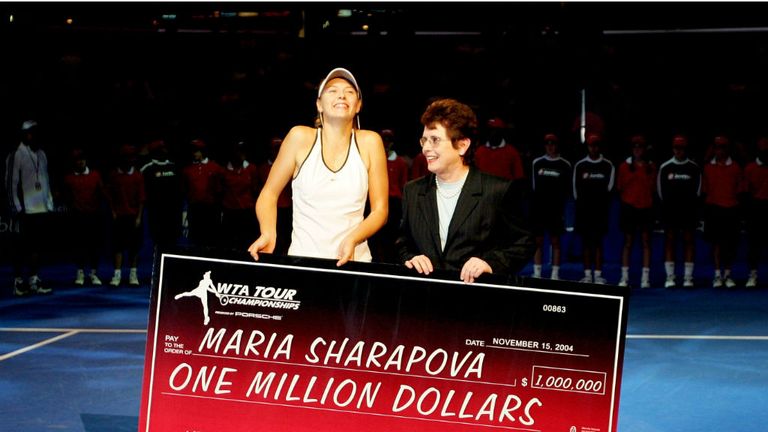 It can turn a game on its head and be the difference between glory and failure. To celebrate great decisions the experts at Sky Sports have found 'The 50 Best Decisions in Sport' so you can vote for which you think is the best of all time, and have the chance to win a top prize.
Our Expert Panel has now turned its attentions to the best decision in tennis and to help you make your choice decision we've enlisted the help of Mark Petchey.
Take a look at his picks and then vote for your favourite at www.skysports.com/decisions. Voting closes on August 14.
Serena ends her break
In 2003, Wimbledon champion Serena Williams seemed to have an iron grip on the women's game. Yes, she needed knee surgery, but it was routine and expected to keep her out for just a couple of months - a mere bump on her road to further glory.
Yet, as the injury healed, Serena discovered a whole new world outside tennis. From fashion to acting, Williams was more likely to be seen on the red carpet than the tennis court and it seemed her tennis career was over. However her decision in 2004 to go back to the game she loved, winning a tour event in Miami, would prove to be a masterstroke. She went on to win ten more grand slams, as well as Olympic gold in 2012.
Seles' unorthodox coaching
Growing up in Yugoslavia, Monica Seles' tennis career was shaped by her father, Karolj Seles. With no formal training, Seles senior became Monica's tennis coach and it was through his tutelage that she developed her famous two-handed shots, for both forehand and backhand.
It was unconventional, but the style suited her powerful playing style and proved hugely effective. With nine grand slams to her name, and an Olympic bronze medal, Seles became a giant of the women's game in the 1990s - all thanks to her father's decision to coach her himself.
Billie Jean King creates the WTA
Billie Jean King was not only a sublime talent, but also an off-court revolutionary who changed the game for the better. She was a frequent campaigner for women's equality within tennis - particularly when it came to the massive imbalance in prize money between women and men.
It was this anger that made her decide to create the Women's Tennis Association in 1973, which has advanced the game's professionalism ever since.
Introduction of Hawk-Eye
Narrow calls and umpires' decisions are often the most controversial moments in tennis - and were responsible for sparking John McEnroe's famous "You cannot be serious!" rant. So, in 2006, to placate angry players and introduce a more modern approach, the game's authorities decided to use Hawk-Eye technology.
It was the right decision. By allowing players to challenge line calls, Hawk-Eye has ensured a fairer deal for all. The only downside is that it has denied spectators the chance to witness McEnroe-like meltdowns.