US Open: Does Roger Federer defeat mean the end for the 17-time slam champion
After Roger Federer was dumped out of the US Open, we ask is he will ever win another grand slam title?
Last Updated: 05/09/13 12:09pm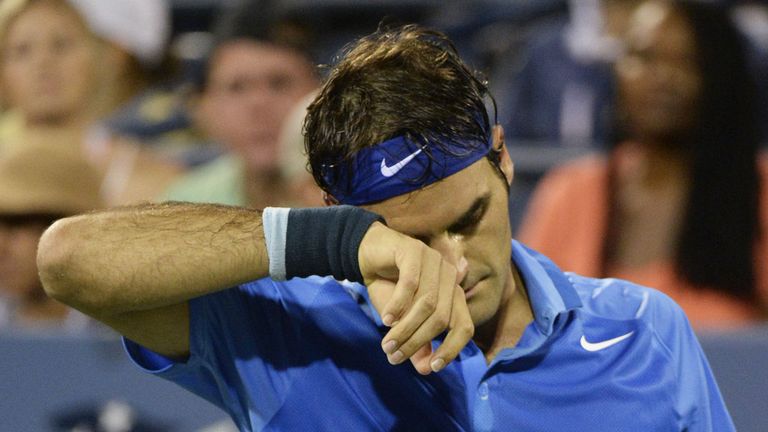 US Open defeat to Tommy Robredo ended a disappointing grand slam year for Federer, who failed to reach a major final for the first time in a decade.
He also suffered his worst result in ten years when he was dumped out of Wimbledon by World No 116 Sergiy Stakhovsky in just the second round at his beloved SW19.
To make matters worse, Federer has slipped down the world rankings to find himself in the unfamiliar surroundings at No 7 - his lowest place in the standings since October 2002.
It's all a far cry from the man who has redefined tennis and smashed all manner of records during his spell of dominance, which saw him as World No 1 for 237 straight weeks between 2004-08 and 302 overall.
It's sometimes easy to forget just what a giant of the game Federer is - a record 17-time grand slam champion he has won seven Wimbledon titles including five in a row; he's won five US Opens - all in a row, and completed the career grand slam when finally winning on Rafa Nadal's clay - even if he didn't need to beat the Spaniard himself in Paris.
Records
And there are plenty more records to pick out as well - Federer appeared in 18 out of 19 major finals and ten in a row between 2005-10, making 24 in all and taking part in 23 straight grand slam semi-finals just shows the measure of his consistency over his golden spell.
It's worth highlighting all these stats in order to illustrate just what an awful year Federer has endured, and it will be harder than ever for him to fight back from this slump.
It is 2010 where Federer's stranglehold of world tennis started to loosen though, and it's no coincidence that coincided with the rise of Novak Djokovic and Andy Murray - creating a 'Big Four' that has led to arguably the best era of men's tennis.
Just three finals in the last four years for Federer signalled that he was not going to have things all his own way anymore, and although he added two more slam title to take his tally to 17, it's hard to see him gathering more in the coming years.
At 32, age is now another adversary against the Swiss superstar, who even though he still glides effortlessly across the court as the Rolls Royce of tennis players, even he is now dealing with injuries as a back problem begins to hamper him.
Murray and Djokovic keep going from strength to strength, and even though doubts surrounded Nadal due to his dodgy knees, he has come storming back defiantly and looks as good as ever this year.
Rankings
It may be wrong to write him off just yet, but it'll be even harder for Federer at slams now if he is languishing down at No 7 in the world, meaning he'll be facing his big rivals earlier on in tournaments.
His rivals are also seemingly less intimidated by facing Federer these days as well, with only Djokovic not having a winning record against him but having taken seven out of their last ten meetings - the same as Nadal.
More troubling than the results themselves is some of Federer's decisions of late - playing small events on clay in Hamburg and Gstaad only resulted in shock losses to Federico Delbonis and Daniel Brands.
Changing to a larger racquet for a period was also not a Federer-like move, and he switched back to his old weapon of choice for Flushing Meadows - but even looking at the change was a sure sign that he was now searching for something from his equipment to give him an edge.
Federer himself saying he beat himself against Robredo was another worrying sign for a man who we are so used to breezing through games into the latter stages of the big events.
Federer ahas said he is determined to bounce back, but we'd hate to see him playing on and dropping down the rankings even further - perhaps he wants to retire on top after winning another slam title just as his hero Pete Sampras did, but it's hard to see him ever getting that chance.