Record in waiting?
Many are tipping Rafael Nadal to break Roger Federer's haul of 17 grand slam titles. But how is the Spaniard's chase likely to unfold?
By Alex Williams
Last Updated: 16/09/13 6:17pm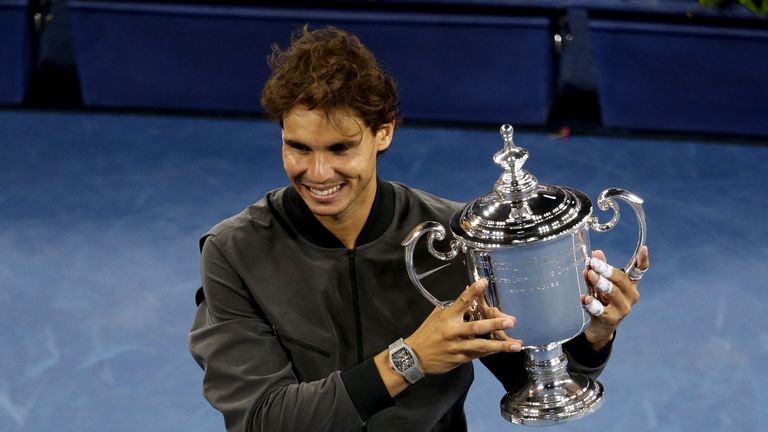 The logic behind the premise is simple: Nadal is 27 years old, is only four slams behind Federer, and on the evidence of the last six months, is the best tennis player in the world by quite some distance.
It was hard not to be overawed by his performance at Flushing Meadows last Monday. Nadal hit his groundstrokes with more ferocious power and top-spin than ever, moved around the court as well as anyone could remember and once again displayed the amazing levels of fitness we have all become accustomed to.
The lengths Djokovic had to go to merely to win a set were remarkable, but with every splits-inducing failed forehand the exasperation grew. Defeat was inevitable.
In 2011 Djokovic capped an annus mirabilis by overpowering Nadal in the final of the US Open, having an almost constant edge against a player who sauntered through the draw 12 months previously. But by then it was no surprise, as the Serb had already beaten Nadal five times during the season.
Even Nadal's current campaign does not quite compare to Djokovic's mystifyingly good 2011 as things stand, but it is fair to say it may edge 2010 as the Spaniard's best. Despite winning one fewer grand slam tournament, he has dominated on both clay and hard courts all year, while 2010 was built on his prowess on the former surface.
Winning streak
Since losing to Horacio Zeballos in his comeback tournament following a seven-month absence Nadal has suffered just two defeats - a reverse to Djokovic in the final of the Monte Carlo Masters and the borderline inexplicable aberration against Steve Darcis in the opening round of Wimbledon.
Losing to the unheralded Belgian was, of course, a shock of epic proportions, but could these kind of results be what keeps him from breaking Federer's current record?
Well, this year marks the third time Nadal has won more than one grand slam in a single campaign, and on the previous two occasions he has followed it with a year that, by his own high standards, can only be described as a disappointment.
Consistency from year to year is not something Nadal specialises in and relatively early exits at the major tournaments are not a rare occurrence for the Spaniard.
A measure of Federer's unerring regularity in his prime was the fact that he reached 23 consecutive grand slam semi-finals, while Djokovic is currently on a run of 14 straight last-four appearances. Nadal's best effort? Five.
If the past is anything to go by we can expect a down year from Nadal in 2014 and possibly even another lay-off - his ongoing knee problems rarely hinder him on court, but the joints do seem to need sporadic periods of rest.
However, a 'down year' for Nadal more often than not still includes a grand slam crown, most inevitably at the French Open where he has a mind-boggling career record of 59-1.
Again, if we use the past as our guide, Nadal will then come back stronger than ever and win multiple slams in 2015 or 2016, although it is worth noting that he turns 30 during the latter year.
Of the other Open Era giants of the game, Federer (once), Pete Sampras (once), Andre Agassi (twice) and Jimmy Connors (twice) have all won major titles after reaching that age. Rod Laver even completed the calendar year Grand Slam at 31 in 1969 - an achievement Nadal recently stated was "impossible for anyone" these days.
So even if Nadal does suffer the expected dip next season, there is theoretically still plenty of time for him to come back, have another big year and then carry on winning the French Open for even longer.
Given that Juan Martin del Potro seems to be the only man who could feasibly develop into a player who could trouble Nadal at Roland Garros (the other notable clay-courters are contemporaries of Nadal or older and come-from-nowhere, breakthrough talents are increasingly rare) it is easy to imagine the Spaniard winning two or even three more titles in Paris.
That would leave him one behind Federer's total, meaning all he would need to draw level or even break the record is another 2008/2010/2013-like year of dominance to complement his reign on clay.
It is unlikely that year will come in 2014, which will no doubt once more lead many to carelessly say that injuries are catching with him, but it should happen sometime within the next 36 months.
Predicting the future is always a fool's game, but the odds seem stacked firmly in Nadal's favour.