Davis Cup: Ross Hutchins targets Great Britain tie with Colin Fleming
Ross Hutchins has set his sights on playing in Great Britain's Davis Cup World Group clash in America.
Last Updated: 19/12/13 12:38pm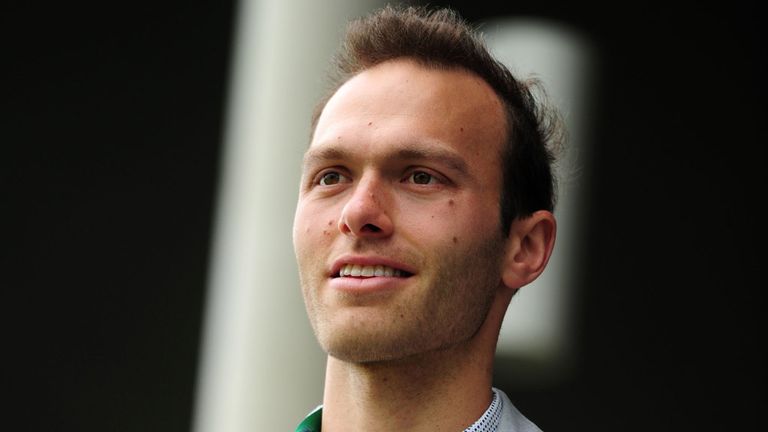 The 28-year-old is preparing to make his comeback from cancer after being diagnosed with Hodgkins lymphoma last December but was told he was in remission in July following six months of chemotherapy.
After missing the whole of the 2013 season, Hutchins is spending this week training at La Manga Club in southern Spain and will play his first ATP Tour event for 14 months in Brisbane in 10 days' time with doubles partner Colin Fleming.
The Australian Open follows later in January before Great Britain play their first match back in the Davis Cup World Group in five years in San Diego.
Hutchins is currently unranked but sees no reason why his ordeal should affect his ambition for him and Fleming to be among the best teams in the world.
Goal
"We have a goal to play in America. We want to make the captain have a tough decision," said Hutchins.
"We've got a lot of good doubles players. A lot will depend if Andy (Murray) wants to play the doubles match, and if so then great. Andy's probably our best doubles player, and if he wants to play then we're all trying to play with Andy.
"If not, then Colin and I have hopefully got our name in the ring. He's on an eight-match winning run and we're on a three-match winning run in Davis Cup, so there's no reason why we can't be there."
Hutchins and Fleming began playing together full-time in 2011 and have won three ATP Tour titles and reached two grand slam quarter-finals.
In 2012 they were alternates for the season-ending Barclays ATP World Tour Finals, and the day Hutchins told his friend he had cancer, Fleming promised their partnership would continue.
"That was the biggest thing that he could have said to me," said Hutchins.
"I really enjoy playing with Colin, I think we have a bond that I haven't felt with other people.
"We're very similar, we've been friends for a long time. He's got a lovely wife who gets on well with my fiancee, and it's really enjoyable for me.
"Playing with Colin has helped me rekindle my love for the game. Not that I lost it, but I was away for so long and you end up wondering how you're going to react when you're back on court."