Australian Open: Dominika Cibulkova targets Grand Slam success in the future
Dominika Cibulkova insists she can become a major champion after losing out to Li Na in the Australian Open final.
Last Updated: 25/01/14 1:54pm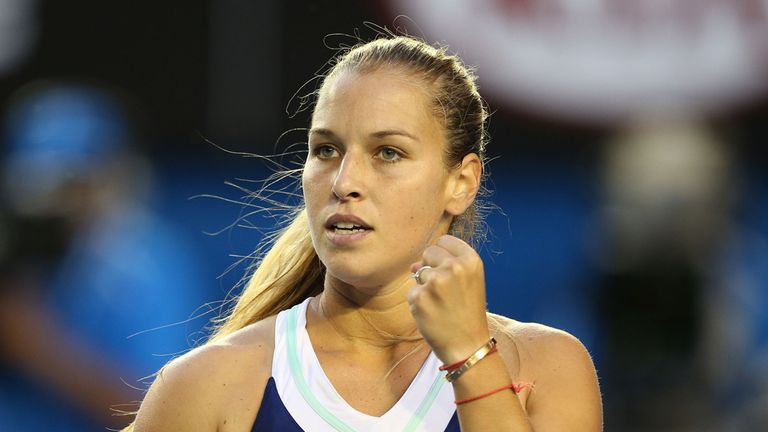 The 20th seed from Bratislava battled hard in the first set against China's world No 4 in Melbourne, but she fell to pieces in the second, crashing 7-6 (7/3) 6-0 in an hour and 37 minutes.
However, after accounting for third seed Maria Sharapova, fifth seed Agnieszka Radwanska and 11th seed Simona Halep on her way to the final, Cibulkova is confident of landing a major title in the future.
"Yes, I feel that way," she said. "I'm just 24 and already played in a Grand Slam final. I feel like my game is there to challenge the biggest names, you know, to beat them, so why not?
"It was my first Grand Slam final and I'm just proud with the way I handled it.
"I just went on the court and I wanted to play my best tennis. It wasn't easy against her because she was playing extremely well. So I'm quite happy."
Valuable lessons
At 5' 3" she is the shortest player in the top 50, but her size has been no hindrance Down Under where her power off the ground and relentless running has helped her muscle past opponents.
Cibulkova, who will move up to 13 in the world when the new rankings are released on Monday, had previously reached the French Open semi-finals in 2009.
But after losing out to the experienced Chinese star on the big stage, Cibulkova admits she had learned some valuable lessons.
"I learned a lot. Of course it will be great to win my first final of a Grand Slam, but I think it takes time, you know. It's not that easy," she said.
"Now I know that it's just another match in your life. That's how you have to take it.
"When I played my first semi-finals of a Grand Slam I just went on the court. I was 19 years old. I was just like happy I'm already there and I was not fighting for the final.
"Now I know how it is to play the final."
Now coached by Slovak Fed Cup captain Matej Liptak, Cibulkova heads back to Slovakia as the first player from her country to make a Grand Slam final, a feat she is proud of.
"I'm really looking forward to go back home," she said. "In Slovakia, as I said, it's huge thing, it's really big. I am happy I represent my country so well."