Aegon Championships: Ross Hutchins named director of Queen's Club tournament
British tennis player Ross Hutchins has been appointed tournament director of the Queen's Club tournament.
Last Updated: 05/03/14 4:16pm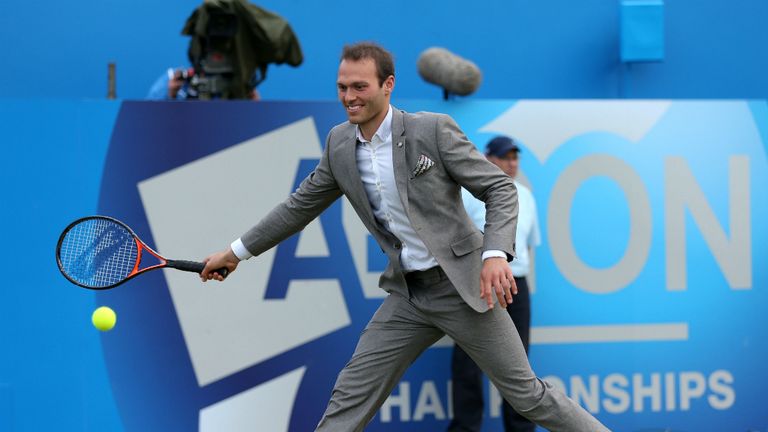 Hutchins, who is back playing after recovering from Hodgkin's lymphoma last year, beat off competition from former player and broadcaster Mark Petchey to replace Chris Kermode, who was recently hired as the new chairman of the ATP.
The 29-year-old remains an active doubles player and was responsible for organising a charity tennis match, 'Rally Against Cancer' at Queen's Club in 2013, which raised over £300,000.
Hutchins will now combine his playing career with the director role - although his involvement will rule him out of the Aegon Championships - and the Wimbledon-born player is eager to see the tournament advance.
"I am honoured to have been given this opportunity," said Hutchins, who will be responsible for tennis decisions and player relations during the tournament week, as well as advising on tournament strategy.
"The Aegon Championships is one of the longest running and best tournaments on the ATP World Tour, and I will do everything I can to make it even better."
Hutchins will work alongside the tournament's managing director, Stephen Farrow, with the pair taking on the responsibilities of Chris Kermode, who is now the executive president and Chairman of the ATP.
On the final day of the championships last year, Hutchins' charity match featured Andy Murray and Ivan Lendl, as well as the Mayor of London, Boris Johnson and he admits the Queen's Club holds a special place in his heart.
Special
"It has always been a special event for me as a player because it was the first main tour tournament I ever played, but my appreciation for the event grew further last year when I had the chance to work with the fantastic tournament team on the Rally Against Cancer charity match," he said.
"I was fascinated by how much work went on behind the scenes, and I loved being involved with it.
"Nothing will change except that I won't play the Aegon Championships tournament week."
He added: "As soon as I knew that this position was going to be available and that I was keen to do it, I spoke to Colin Fleming, who has been my doubles partner for the last four years. He immediately said: 'You should go for it, it's a great opportunity and it's a great fit for you.'
"It was important that my doubles partner was okay with it, and that he was supportive of me doing this because I am still very dedicated to our team, and ambitious as a tennis player."
This year's Aegon Championships runs from June 9-15 and outgoing director Kermode believes there is no more fitting candidate to succeed him.
"The way Ross threw himself into organizing the charity match last year at a time when he was going through chemotherapy, was an inspiration," he said.
"Everyone likes Ross, and his drive, determination, passion and positive attitude will ensure he is a huge success in this role."