Wimbledon 2014: Andy Murray relieved to progress to quarter-finals at SW19
Last Updated: 01/07/14 7:18am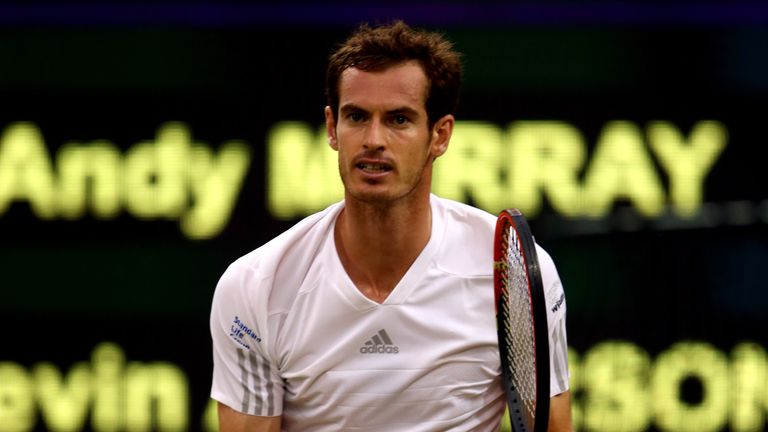 Andy Murray was happy to fight off a resurgent Kevin Anderson as he reached the quarter-finals of Wimbledon for the seventh successive year.
The defending champion is yet to drop a set but had to save a set point in the third-set tie-break in a 6-4 6-3 7-6 (8/6) victory.
Anderson became more of a threat after the roof was shut three games into the second set.
Murray said: "When it was outdoors, I played very well, I was in a good position.
"When we came back indoors he started to strike the ball a bit better, he started serving better and I was dropping the ball a little bit shorter than I was in the first set and a half so I had to do a bit more running.
I got a bit tentative, but it was a good win because he was playing very well at the end, making it very tough for me.
Andy Murray
"I got a bit tentative, but it was a good win because he was playing very well at the end, making it very tough for me."
Murray won an impressive 40 per cent of return points against the 6ft 8in big server, and he said: "You pretty much guess a lot of the time.
"Sometimes you go the wrong way, sometimes you go the right way. Thankfully today I picked a few good ones."
The crowd was noticeably noisier than in Murray's other matches, particularly at the biggest moments.
"I'm just trying to stay concentrated when I'm on court," he said.
"I don't worry about everything else that's going on outside of it, everything that's said. I just try to play tennis and not worry about the rest.
Crowd boost
"But when you play in front of a crowd like that it gives you a big lift, raises your intensity and makes it hard for your opponents as well in tight situations. The crowd always help.
"It's good to get off in straight sets and now I can rest up and get ready for the quarters."
Murray willl now play Queen's champion Grigor Dimitrov, who is having the best season of his career.
"All of the matches are tough," said the Scot. "Everyone that's in the quarter-finals of slams is playing top tennis, and I just have to do what I've got to do and concentrate on my side of the court.
"If I play well I'll make it tough for them."
Murray was watched from the Royal Box by Sir Alex Ferguson while his mother Judy was there for the whole match this time after only catching the end of his third-round win over Roberto Bautista Agut.
Murray had joked he was the second son after Judy chose to watch his brother Jamie instead on Friday.
"Jamie wasn't playing so she didn't have a choice to make thankfully," he added.