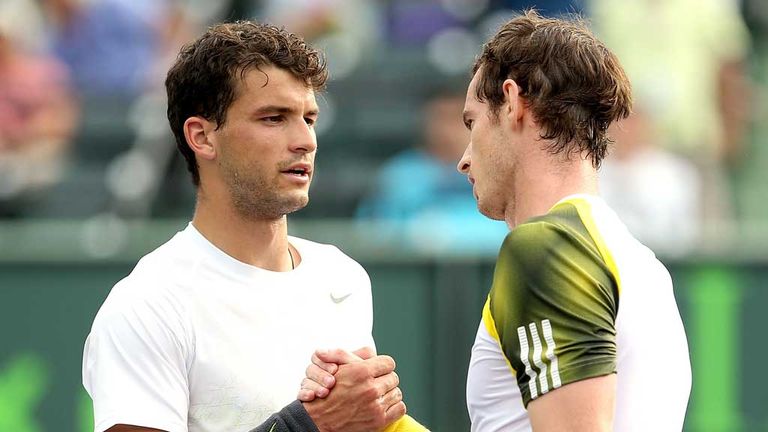 Grigor Dimitrov believes he can end Andy Murray's reign as Wimbledon champion when the pair meet in the quarter-finals on Centre Court on Wednesday.
Murray goes into the clash as the 1/4 favourite with Sky Bet, but Dimitrov has no fears about taking on the British No 1 in front of his home fans.
It will be the Bulgarian's second appearance in the last eight at a major since testing Rafael Nadal at the Australian Open in January.
Dimitrov said: "I'm happy that I'm in the quarter-finals, I'm going to give credit to myself for that. But my job isn't over yet.
"Every tournament I enter is to win the whole event. I think that's the whole point of competing and having those tournaments.
"Of course, it's not an easy task. It's a lot to ask. You're going to be asked a lot of questions from your opponent, so you've got to have the answers.
"So far I think I've been performing on a good level for me. I'm expecting to raise up my level in the next match.
"It's not a new opponent for me. I know him. There's nothing major for me that I need to be aware of.
"I'm going to have another chance on Wednesday to challenge. This is the position I want to be every slam and every tournament, whoever I'm playing. These are the matches I want to play.
"There's nothing better for me. Obviously you've put in so much work, you've been patient enough, all that. So you want to be at that stage."
Murray has not won a tournament or reached a final since winning Wimbledon last year, which is in stark contrast to Dimitrov, for whom all four of his ATP Tour titles have come since linking up with coach Roger Rasheed in October.
The most recent of those came three weeks ago when he succeeded Murray as the champion at Queen's Club.
He also won a title in Acapulco in March having beaten Murray in the semi-finals - his first ever victory over the Wimbledon champion.
"I think we played a great match," said the 23-year-old. "I think it was one of the best matches for me this year so far.
"I've practised against him many times. We know our games pretty well. That match in Acapulco was a really long and exhausting match. (That was) best of three, it's another thing to play best-of-five sets.
"I think we're both loaded up and ready to come out on that court."